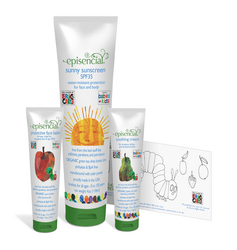 "Summertime is when most moms make protecting their kids' skin a priority; I know my boys are outside all day at the pool, park or beach and that degree of exposure poses real health risks," said Kim Walls, MS and CEO of Episencial.
Los Angeles, CA (PRWEB) April 28, 2010
Episencial announces a retail partnership with the largest online baby care specialty site in the U.S., Diapers.com, and introduces a limited edition Fun Summer Skincare value kit featuring actively healthy products for babies, kids and planet. Available today exclusively at Diapers.com, Episencial's Fun Summer Skincare value kit is priced at $19.99, representing a 30 percent savings, and includes:

Full-size (4oz) Sunny Sunscreen with SPF 35 – chemical-free and water-resistant sun block
Full-size (.75oz) Protective Face Balm – comfort and protection for chapped lips and cheeks
Travel-size (.75oz) Soothing Cream – all-natural relief from eczema, itchy and bothered skin
Craft adventure featuring "The Very Hungry Caterpillar" from The World of Eric Carle
Episencial's packaging is inspired by the story and artwork of Eric Carle's best-selling children's book, "The Very Hungry Caterpillar."
"Summertime is when most moms make protecting their kids' skin a priority; I know my boys are outside all day at the pool, park or beach and that degree of exposure poses real health risks," said Kim Walls, MS and CEO of Episencial. "Our Fun Summer Skincare kit conveniently combines our most protective treatment products that naturally and effectively support the health of developing skin and bodies."
"At Diapers.com, our mission is to find ways to make life easier for parents, which includes offering the best possible products for keeping their babies safe and healthy," said Christina Carbonell, VP of Marketing at Diapers.com. "As the exclusive online retailer of Episencial's Summer Skincare Kit, we're pleased to offer a safe and all-natural way for our customers to protect their children from the harmful effects of the sun."
Episencial is the first company to deliver clinically effective, newborn-safe products designed to support the essential immune functions of the skin. Made exclusively from all-natural ingredients and loaded with organics, Episencial is leading the chemical-free charge in personal care products for kids with pricing designed to support today's actively healthy families with green values.
With the product line's growing popularity among young Hollywood parents, it is clear that celebrity mothers agree with Episencial's purpose:
"I'm obsessed with Episencial skin care for babies and kids – particularly the awesome sunscreen. We've been searching for healthy products for Paloma's skin that feel good, smell good and really care for the planet. Also, Diapers.com delivers Episencial products right to my door – what more could a busy mom want?" said Ugly Betty actress Ana Ortiz.
The Fun Summer Skincare value kit is Episencial's latest innovative and cost-effective solution demonstrating the importance of protecting the health of babies and kids. Moving beyond the "greenwashed" approach typical of mainstream natural products, all Episencial products are manufactured in the U.S. using solar power and recycled and sustainable packaging.
Summertime Skincare Tips from Kim Walls, MS
1. Did you know that the U.S. Food and Drug Administration does not require sunscreens to guard against UVA radiation? It is important to block both UVA and UVB rays from penetrating your child's skin, so look for chemical free products that offer full spectrum protection. With an SPF of 35, we are proud of the fact that our Sunny Sunscreen has one of the highest SPF ratings of any all-natural product available today!
2. In addition to preventing sun damage, it is also important to combat the negative effects of increased exposure to pollution in the ocean and air and also by the sheer heat on the skin's surface. Episencial's Sunny Sunscreen is fortified with aloe to help cool the skin, and powerful antioxidants like green tea extract to offset skin problems and prevent lasting damage from sun exposure.
3. Are allergies a part of your family's life? Enjoying the outdoors increases the potential for contact with allergens such as grasses and pollen. Because your child's skin reflects what is going on inside his or her body, you can expect to see your child's skin react with bumps, rashes and discoloration. Bothered skin needs special treatment. Before you reach for cortisone cream, try a natural approach such as Episencial's non-steroidal Soothing Cream.
4. The skin's ability to perform essential immune functions can be compromised by the damaging dryness resulting from exposure to chlorine from pools and typical city water supplies. Episencial's Sunny Sunscreen is fortified with organic avocado oil, beeswax and Shea butter to maintain skin hydration and create a water-resistant barrier to reduce absorption of pollutants through the skin to support overall health.
Episencial Sunny Sunscreen offers the safety of a chemical-free formula plus the added health benefits of top-quality skincare. According to the Environmental Working Group database of ingredients for personal care products (http://www.cosmeticsdatabase.com), Episencial's all-natural formulas have among the highest safety ratings for ingredients that target sun damage and prevent sun-induced heat rash. For battling sun exposed skin, dehydration and oil-dry symptoms, Episencial Sunny Sunscreen (SPF 35) is the best defense for babies' tender skin.
About diapers.com:
Diapers.com is the largest online baby care specialty site in the United States, offering everything from diapers, wipes, formula and baby food to shampoo, cribs, car seats, clothing, strollers and more. Diapers.com makes life easier for moms and dads by delivering the products they need in 1-2 days and offering them at the lowest prices online. With Diapers.com, parents never have to drive to the store or wait in line again for their everyday baby care needs. Thanks to an ever-expanding brigade of more than 500,000 happy moms and dads who cheerfully spread the word on where to find "the best deal on diapers and more," Diapers.com is the world's fastest growing e-commerce destination. For more information, go to http://www.diapers.com.
About Episencial:
With Episencial products you can begin to instill green values from day one. Sharing these fun and inviting products -- and the care and consideration that goes into making them - with children can serve as a building block for making actively healthy choices for themselves and the planet. Episencial was founded by Kim Walls, M.S., a second-generation skin care expert from the Epicuren family, who couldn't find skin care products for her babies that met her standards for quality and care for the environment - so, she created her own with the help of several moms and dads. Episencial now proudly offers two distinct all natural skin care lines: Epicuren Baby featuring exclusive imagery from renowned artist Anne Geddes and the new Episencial skin care system with artwork from The World of Eric Carle.
Sales of Episencial products benefit the company's philanthropic partner Healthy Child, Healthy World and its mission to protect children from harmful chemicals. For more information, go to http://episencial.com.
About The World of Eric Carle:
The World of Eric Carle is a design-driven licensing and merchandising program based on the beloved picture books by Eric Carle, best known for the children's classic The Very Hungry Caterpillar. A prolific author and artist, Eric Carle has written and illustrated more than seventy books which have sold over 90 million copies worldwide. Like his books, The World of Eric Carle brand draws upon Eric Carle's lessons in creativity, discovery, play and development. Licensing and merchandising programs are ongoing in the US, UK, Germany, Australia and Japan. Plans for 2010 include expanding into France and Korea. For more information about Eric Carle visit http://www.Eric-Carle.com. Chorion, a global family entertainment and merchandising company, represents The World of Eric Carle for licensing worldwide.
###