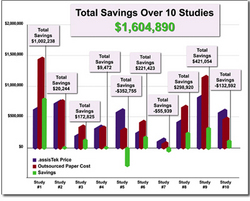 All of assisTek's ePRO data collection products deliver patient reported outcomes data in clinical trials that is consistently more than 99% complete
Scottsdale, AZ (PRWEB) October 27, 2008
Five years ago, a large biotech company began collecting ePRO (electronic patient reported outcomes) data using assisTek's proven tablet system in clinical trials around the world. Recently, assistek's financial team calculated the costs of using the assisTek system compared to what it would have cost if the client had used traditional paper questionnaires. The results showed that assisTek's ePRO data collection saved the client $1.6 million over paper questionnaires over 10 studies.
The results were significant and wide ranging. assisTek's ePRO tablets saved the customer money in 7 out of the 10 studies, with 1 study saving over $1,000,000 alone. In addition, the customer benefited from much more rapid access to significantly higher quality data than would be possible with paper-based questionnaires. The customer also enjoyed assisTek's industry leading online study management system, which provides real time management reports, which also would have not been possible with paper questionnaires.
"All of assisTek's ePRO data collection products deliver patient reported outcomes data in clinical trials that is consistently more than 99% complete," said Joy Hebert, Chief Operating Officer. "This means that clients can significantly reduce queries, and the significant time and labor traditionally required for resolving them. In addition, our unique system reduces workload by more 90%."
For more information about assisTek's ePRO systems or to schedule a free no-obligation demonstration, contact Reinet Marneweck at reinet.marneweck@assistek.com.
About .assisTek:
.assisTek is the global leader in ePRO systems and has revolutionized the process of collecting patient-reported outcomes in clinical trials by helping sites collect the data electronically and systematically through large 9 inch tablet touch-screens, iPhones, mobile PDAs, and on the web.
.assisTek's ePRO products are the most advanced in the industry. The .assisTek team has the deepest knowledge and experience in the industry having served more than 45,000 patients in more than 35 therapeutic areas at more than 4,500 sites across 5 continents.
.assisTek, formerly Assist Technologies, can be found on the web at assisTek.com.
# # #