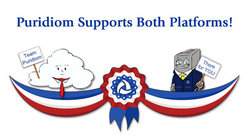 Puridiom is the only eProcurement provider to offer both of these services
Mechanicsburg, PA (Vocus) September 2, 2010
Puridiom, leading provider of eProcurement solutions, tackles the issue of Cloud vs. Licensed eProcurement platforms and is helping businesses decide which platform to choose.
Puridiom Enterprise eProcurement is an integrated end-to-end solution that supports every stage of the procurement cycle. A true P2P and Procurement 3.0 solution, Puridiom uses its easy-to-use interface, intelligent work flow routing, social media, and flexible content management technologies to enable rapid user and supplier adoption thereby achieving real spend management goals and savings. This solution is offered in two platforms – Puridiom Cloud and Puridiom Licensed enabling any type of organization to utilize the solution.
Puridiom Cloud enables an organization to access the solution with a browser and access to the internet. A monthly subscription fee takes care of the underlying data center infrastructure, as well as upgrades and new releases. Puridiom Cloud is a single-tenant option that ensures a single user to the application, database, and control of releases and updates, as well as a more secured access. Puridiom also offers a multi-tenant cloud-based option designed for small businesses – Puridiom Xpress.
Puridiom Licensed offers the software in the more traditional vendor software license model. A managed component is available, in which Puridiom personnel manage the software, install updates and releases, as well as provide technical and help desk support.
"Puridiom is the only eProcurement provider to offer both of these services," says Jesus Ramos, Puridiom President and CEO. "The same quality eProcurement solution is available in the platform that best suits your organization's requirements so, in the great Cloud vs. Licensed debate, there is no debate at all."
Puridiom Procurement solutions are available in both Cloud and Licensed platforms, and more information can be found on their website.
About Puridiom
Puridiom is the most comprehensive Procure-to-Pay solution provider to offer Cloud and Licensed platforms for organizations of all sizes and industries. For over 27 years, Puridiom has streamlined function in the supply chain with innovative technologies, providing dynamic personalized services and extensive domain experience. The easy-to-use software and team strategies enable organizations to gain a competitive position and transform business into a strategic resource savings solution. Solutions include: Enterprise Procure-to-Pay, Puridiom Xpress, Strategic Sourcing, Catalog Content Management, Supplier Enablement, Invoice Automation, AP Outsourcing, and Travel Management. E-Procurement consulting services are also provided.
###