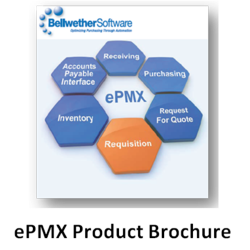 Bellwether helps meet the demands of today's clients by providing flexible, custom pricing models along with its powerful, intuitive cloud-based solutions
Louisville, KY (PRWEB) April 15, 2012
Bellwether Software, the leader in e-procurement, and spend management software, today announced its highly successful first quarter in 2012, continuing its impressive growth over the past 3 years, while indicating that its Software-as-a-Service model, has helped small and mid-sized companies acquire a valuable tool to control spending and increase profits.
"2011 officially marked our 3rd consecutive year of new annual contract value growth," explains Bill Arnold, founder of Bellwether Software. "Our continued success indicates the value our procurement software solutions bring to our customer base while it also underscores the changing landscape toward a preference for cloud-based solutions and flexible delivery models including: software-as-a-service (SaaS), traditional licensing, and SaaS-to-Own.
"Bellwether helps meet the demands of today's clients by providing flexible, custom pricing models along with its powerful, intuitive cloud-based solutions. Our customers depend on Bellwether to develop and enforce a culture of smart spending, and regardless of current economic uncertainties, we see a rising demand for our procurement software solutions because they help organizations find greater efficiencies and help eliminate wasteful spending, " explains Arnold.
Thanks to the purchasing software's capabilities and its ease-of-use, there has been rapid user adoption and expansion of the e-procurement solution throughout our clients' other divisions.
Bellwether Software has added various companies to its impressive ePMX (electronic purchasing manager extra) customer list over the past year including: Miles & Stockbridge , Inglett & Stubbs International, Quileute Tribal Council, Ocean Power Technology (OPT) , Evenko, BioProcure, CWS Marketing Group, Veolia Transportation , Fresh Global, Herff Jones, and Project Samaritan. In addition to these organizations, Bellwether has added a number of additional clients including healthcare groups, financial institutions, insurance companies, and service providers.
Bellwether continues to focus on its core business: helping organizations save money by cutting costs, eliminating wasteful spending and reducing manual processes. Bellwether Software maintains a commitment to develop an application for the end-user that is both powerful and easy.
About Bellwether Software
For more than 26 years, Bellwether Software has been specializing in software and web-based applications that automate business processes for small and mid-sized organizations. What Bellwether brings to companies is the invaluable experience in identifying areas that cost you money every day: poor controls, slow processes, maverick spending and human error. With Bellwether's web based solutions combined with an experienced team, customers will have the tools and resources to realize immediate cost savings with smooth implementation, along with a professional and unparalleled procurement support experience. Bellwether ePMX modules include Purchasing, Requisitions, Receiving, Quotations/Bid Management, Inventory, Asset Management, Contract Management and Invoice approvals.
Questions and inquiries should be directed to epmx(at)bellwethercorp(dot)com or to 502-426-5463. Visit Bellwether's website at http://www.bellwethercorp.com. Be sure to subscribe to our Purchasing & Spend Analysis Blog.