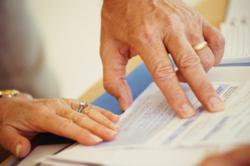 London (PRWEB UK) 24 May 2013
As the Debt Advice Foundation warns that more women than men are likely to apply for personal insolvencies in 2013, leading online credit information provider, Equifax, is providing insight into the attitudes of women regarding their finances and credit information.
The Debt Advice Foundation has published analysis of Insolvency Service data which shows that women accounted for almost half of personal insolvencies in 2011 – up 30% from the previous decade. And the charity believes that the rate will remain broadly equal in 2012 with more women than men predicted to be in this situation in 2013. Research conducted by Equifax in February this year, however, suggests that women are actually more careful at budgeting than men.
45% of women who responded to the Equifax survey of buyers of its credit report services said they are careful with their money and try to stay on budget as much as possible, compared to 39% of men. 21% of women compared to 18% of men said they were extremely cautious with their money and will not buy something unless they know they can afford it.
Women are also currently more concerned about losing their job, and the impact this could have on their finances with 63% of female respondents citing this as a cause for financial concern compared to 51% of men. In contrast, male respondents to the Equifax survey were significantly more worried about any increase in taxes impacting their finances. 22% of men cited this as a concern compared to just 9% of women.
When it comes to awareness of the importance of credit information and credit reports, separate Equifax analysis suggests that the genders are equal. 58% of men said that they checked their credit report before making a new application for finance as did 53% of women.
"Regardless of gender, we want consumers to understand the significance of understanding the role of credit information in being able manage their finances and get access to new credit" explained Neil Munroe, External Affairs Director, Equifax. "We encourage anyone preparing to make an application for new credit – from a mobile phone agreement to a mortgage – to get a copy of their credit report. This will give them a clear understanding of how lenders will view them alongside the information they put on their application form so that they can get the best possible deal for their circumstances."
The Equifax Credit Report is accessible for 30 days free simply by logging onto http://www.equifax.co.uk. If customers do not cancel before the end of the 30 Day Free Trial, the service will continue at £9.95 per month, giving them unlimited online access to their credit information and weekly alerts on any changes to their credit file. It also includes an online dispute facility to help them correct any errors on their credit file simply and quickly.
The Equifax app is available free from the Apple iTunes Store on iPhone and iPad and from Google Play for Androids.
About Equifax
Equifax is a global leader in consumer, commercial and workforce information solutions, providing businesses of all sizes and consumers with information they can trust. We organize and assimilate data on more than 500 million consumers and 81 million businesses worldwide, and use advanced analytics and proprietary technology to create and deliver customized insights that enrich both the performance of businesses and the lives of consumers.