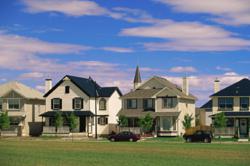 Although much has been done to educate consumers on credit information, we often hear from customers who are concerned about the bad debts of previous occupants of their address
(PRWEB UK) 24 June 2013
One of the oldest myths about credit information is that it is recorded by address and, therefore, if you share the same address as someone with bad debts, or move into a property previously occupied by someone who had bad debts, this will affect your own credit history. Neil Munroe, External Affairs Director, of leading credit information provider, Equifax, explains that this is simply not the case. Equifax wants to ensure consumers understand what information is – and isn't – on their credit report – to give them peace of mind, and make sure their credit
"Although much has been done to educate consumers on credit information, we often hear from customers who are concerned about the bad debts of previous occupants of their address", said Neil Munroe. "Our goal is to provide consumers with clarity, so that they are aware of exactly what information will – and won't impact on their ability to obtain new credit, to rent or buy a property, gain employment or obtain other financial credit agreements."
To assist consumers, Equifax provides a guide to credit reports.
What is ON Your Credit Report

Electoral Roll Information - used to verify a person's name and address and to establish the length of time you have lived at an address
Credit Account Information – your accounts are classed as 'settled', 'active', 'defaulted', or 'delinquent'
County Court Judgments or Decrees – held on your credit report for six years from the date of the judgment
Searches - where a lender has performed a credit check on you will be kept on your credit report for 1 year
Shared Financial Commitments – anyone you specifically share a financial responsibility with, such as a joint bank account
Current Account – an overdraft balance is the only financial information you will see on your credit file
Council of Mortgage Lenders Possessions - if you have voluntarily given up your home or had it repossessed
CIFAS Protective Register - will only appear on your credit file if you have registered with the Protective Register. It aims to detect and prevent fraud
What is NOT on Your Credit Report
Credit Accounts Opened Pre-94 - this information is currently not shared by lenders. It is under review by the government
Student Loans – do not appear on your credit report but there are ongoing discussions on whether this will be supplied in the future
Third Party Information - members of your family who live, or have lived with you do not appear as long as you don't share any joint financial commitments
Savings Accounts, Fines, Child Support Agency, Medical History, Criminal Records
The Equifax Credit Report is accessible for 30 days free simply by logging onto our website. If customers do not cancel before the end of the 30 Day Free Trial, the service will continue at £9.95 per month, giving them unlimited online access to their credit information and weekly alerts on any changes to their credit file. It also includes an online dispute facility to help them correct any errors on their credit file simply and quickly.
The Equifax app is available free from the Apple iTunes Store on iPhone and iPad and from Google Play for Androids.
About Equifax
Equifax is a global leader in consumer, commercial and workforce information solutions, providing businesses of all sizes and consumers with information they can trust. We organize and assimilate data on more than 500 million consumers and 81 million businesses worldwide, and use advanced analytics and proprietary technology to create and deliver customized insights that enrich both the performance of businesses and the lives of consumers.