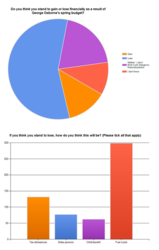 (PRWEB UK) 4 April 2012
Equifax research suggests no change on fuel duty and new tax allowance least welcomed by consumers
The survey polled opinions of more than 500 Equifax customers just a few days after the Budget. The results show that over half (56.6%) said they believe they will lose out from the proposals set out by the Government.
Over three quarters of consumers (86.8%) believe that the decision by the Chancellor not to change the fuel duty rise expected in August nor make any cut now, will impact them. Plus, although the tax allowance changes are expected to benefit individuals, over a third (38.1%) of respondents said that they expect these changes to hit them financially too, perhaps suggesting a lack of understanding of the real implications.
"We already knew that escalating food costs, mortgage repayments and the price of fuel are the biggest financial fears for consumers, following research conducted earlier this year", confirmed Neil Munroe, External Affairs Director, Equifax. "It's of little surprise, therefore, that news from the Budget on fuel duty is giving consumers on-going concern.
"With many people continuing to manage on salaries that haven't increased for a year or more, whilst food and fuel costs have risen significantly, this emphasises once again how absolutely vital it is for consumers to have a complete insight into their financial commitments so that they can reduce the chances of getting caught out."
In the current climate, the key is for consumers to be as informed as possible in order to manage their finances. The Equifax Credit Report, with the facility to access credit information free for the first 30 days, gives consumers a valuable insight into their credit status. Accessible simply by logging onto http://www.equifax.co.uk it is designed to help individuals understand their credit file and see what lenders see to assess new credit applications. It also includes expert tips and advice to help consumers take the right steps to manage their finances and navigate through life's challenges.
If customers do not cancel before the end of the 30 Day Free Trial, the service will continue at £6.99 per month, giving them unlimited online access to their credit information and weekly alerts on any changes to their credit file. It also includes an online dispute facility to help them correct any errors on their credit file simply and quickly.
*Source - Equifax Consumer Attitudes 2012 – Conducted 28th March 2012 - 540 respondents