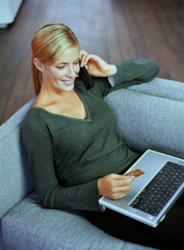 Whilst it's understandable that consumers find it difficult to remember a multitude of passwords, it's absolutely crucial that they don't revert to just one for all the services they access on the web.
(PRWEB UK) 10 May 2013
It has recently been reported by Ofcom* that over half of adult internet users admit they use the same password for most, if not all, websites. Responding to this research, leading ID fraud expert, Equifax, is urging consumers to add variety to their choice of passwords as it launches a new service to monitor for fraudulent use of identities on the internet.
"Whilst it's understandable that consumers find it difficult to remember a multitude of passwords, it's absolutely crucial that they don't revert to just one for all the services they access on the web," explained Neil Munroe, External Affairs Director, Equifax.
"Fraudsters only need three items of personal information to be able to steal an individual's identity and with so much information about people circulating on the internet – especially through social media sites – it wouldn't take much for a fraudster to work out a birthday or family name that could be the key to a treasure trove of information. The Ofcom research shows a real area of risk which our own analysis of consumer behaviours** reinforces with a staggering 76% of consumers saying they use their Mother's maiden name as a password or prompt."
To stop fraudsters in their tracks is the new ID monitoring solution from Equifax – WebDetect. Providing 24/7 monitoring of the internet, Equifax WebDetect alerts people to potential unauthorised use or trading of their personal information by fraudsters, enabling victims to take prompt action.
Available free with an Equifax Credit Report or Credit Score, Equifax WebDetect offers an added layer of protection against the increasing threat of online fraud. "We believe 'information vigilance' has to be the priority for today's consumers as personal information becomes the currency of the internet," continued Neil Munroe. "The invisibility of the worldwide web makes it the ideal place for fraudsters to find and trade people's information so it's vital that consumers stay alert to the risk."
Consumers can ask Equifax WebDetect to monitor up to six personal telephone numbers and addresses, six bank card numbers and their national insurance number for the ultimate in protection. WebDetect uses the latest cutting edge technology to search places where fraudsters trade, including networks, chat rooms and websites worldwide. This enables it to detect stolen identity credentials, finding consumer data regardless of nationality or location.
Once compromised data has been identified, WebDetect alerts the individual, giving them a crucial opportunity to proactively take steps to protect their identity such as cancelling bank cards and credit card accounts, as well as changing passwords.
"We always advise consumers to monitor their credit report for any changes to accounts or spending they didn't authorise," concluded Neil Munroe. "Now, they can also use Equifax WebDetect to receive weekly alerts to ensure their personal details aren't getting into the wrong hands. Crucially, regularly monitoring your credit report, alongside surveillance products like WebDetect, offers a good defense against ID fraudsters."
The Equifax Credit Report is accessible for 30 days free simply by logging onto http://www.equifax.co.uk. If customers do not cancel before the end of the 30 Day Trial, the service will continue at £9.95 per month, giving them unlimited online access to their credit information and weekly alerts on any changes to their credit file. It also includes an online dispute facility to help them correct any errors on their credit file simply and quickly.
WebDetect is free for customers purchasing their Equifax Credit Report or Credit Score and costs £1.99 with other Equifax products.
The Equifax app is available from the Apple iTunes Store on iPhone and iPad and from Google Play for Androids.
*Ofcom research released 24th April 2013
**Equifax Identity Fraud Survey of 939 Consumers, June 2010
About Equifax
Equifax is a global leader in consumer, commercial and workforce information solutions, providing businesses of all sizes and consumers with information they can trust. We organize and assimilate data on more than 500 million consumers and 81 million businesses worldwide, and use advanced analytics and proprietary technology to create and deliver customized insights that enrich both the performance of businesses and the lives of consumers.