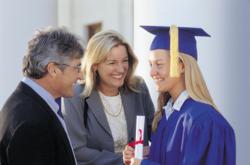 For over a third of parents their household spending has increased by up to £50 a month with nearly a quarter saying their monthly outgoings have increased by over £100.
London (PRWEB UK) 3 April 2013
Proof that the tough economic climate continues to hit families is provided in the findings of the latest research from online credit information provider, Equifax, with one in three parents saying they are not financially assisting their children through university. As household expenses continue to rise, parents seem to be struggling to support their children in further education.
The Equifax research also suggests that current financial pressures appear to be having a significant impact on saving for childrens' future. Nearly one in 5 (18%) of parents admitted that they don't have a savings account for their children. Plus over a quarter don't lend their children money.
The strain on household finances which is preventing parents from helping out their children is reinforced by the fact that nearly 90% of respondents said that spending on food, utilities and other domestic bills has increased in the last year.
"It's clear that pressures on finances over the last few years are having an impact on most aspects of family life – including how parents might be able to support their children in the future", explained Neil Munroe, External Affairs Director for Equifax. "For over a third of parents their household spending has increased by up to £50 a month with nearly a quarter saying their monthly outgoings have increased by over £100. With this in mind, it's no surprise that parents are struggling to put money aside for their children."
However, whilst it appears that parents are finding it difficult to give their children future financial security, they do recognise the importance of the younger generation having a good understanding of how to manage their finances. Over 90% of parents who responded to the Equifax survey think that financial education should be part of the school curriculum, teaching kids about the value of money. This is why Equifax continues to support greater financial education in schools and takes a role in educating and empowering consumers to understand their credit history and how to stay in control of their finances at all stages of their life.
"As household expenses continue to rise, keeping track of spending and financial commitments is more important than ever", concluded Neil Munroe. "We urge consumers to apply for a copy of their credit report, allowing them to review their current financial situation and helping them to make informed decisions when it comes to spending or applying for more credit as well as ensuring they can get the best rates for their circumstances."
The Equifax Credit Report is accessible for 30 days free simply by logging onto http://www.equifax.co.uk. If customers do not cancel before the end of the 30 Day Free Trial, the service will continue at £9.95 per month, giving them unlimited online access to their credit information and weekly alerts on any changes to their credit file. It also includes an online dispute facility to help them correct any errors on their credit file simply and quickly.
The Equifax app is available free from the Apple iTunes Store on iPhone and iPad and from Google Play for Androids.

Equifax surveyed 606 of its customers in March 2013.
About Equifax
Equifax is a global leader in consumer, commercial and workforce information solutions, providing businesses of all sizes and consumers with information they can trust. We organize and assimilate data on more than 500 million consumers and 81 million businesses worldwide, and use advanced analytics and proprietary technology to create and deliver customized insights that enrich both the performance of businesses and the lives of consumers.