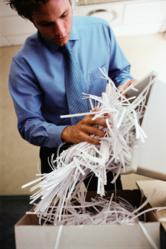 Data-enabled fraud – stealing someone's personal information is where most fraud begins
London (PRWEB UK) 21 June 2013
According to CIFAS – the UK's Fraud Prevention Service –nearly 96,000 confirmed frauds were recorded through CIFAS in the first five months of 2013, with over half (60,000) being victims of identity crime.
Neil Munroe, External Affairs Director at leading ID fraud expert, Equifax believes the CIFAS data only goes to emphasise the importance of consumers being able to monitor their personal details for any changes that might suggest fraud.
"Data-enabled fraud – stealing someone's personal information is where most fraud begins", explained Neil Munroe. "And with a stolen ID, a fraudster can effectively become you – taking money, setting up bank and other financial accounts, even taking out a mobile phone in your name. Yet it's incredible how relaxed people are with their personal information – particularly as it only takes three items of information about an individual to be able to assume their identity.
"It's also astounding that so many people simply don't realise they have been the victim of this invisible crime, until they go to apply for new credit.
"Checking credit card statements regularly should be a very quick way to spot unauthorised transactions. But that still puts the onus on the individual and we know with everyone's lives being so busy, it would be even easier to be alerted to changes in financial information, which is what the Equifax ID Watch service does."
Tackling the threat of identity theft and fraud, Equifax Identity Watch Pro gives consumers unlimited, easy online access to their latest credit file, with automatic alerts within 24 hours of key changes to their credit report. It costs £7.50 per month.
Equifax's top tips for protection against ID fraud
No matter how much you trust your friends, work colleagues, do not give out your PIN under any circumstances, write it down or store it in your phone or computer
Don't use common things for verification of passwords, such as your date of birth or your mother's maiden name
Never give out your personal details on the phone or by email until you know exactly who you are dealing with and that they are from a legitimate organisation. If you doubt the request is genuine, contact the company directly
Check you have logged out properly when using any online banking, so that your details aren't visible to anyone else
Wipe your browser history, especially if reviewing online banking
Always log out of websites and do not select the "remember me' function
Ensure you have the latest virus protection that ideally updates hourly and you have a Firewall
Be careful of what you carry around in your handbag or wallet. Credit Card receipts, payslips, driving licence, bank statement, utility bill…these all reveal a lot of information about you and a combination of these can be a fraudsters dream. Don't carry your Driving Licence or Passport – unless you genuinely need them
Make sure you dispose properly of any bills or bank statements with your account details on after checking them for any unusual activity.
The Equifax app is available free from the Apple iTunes Store on iPhone and iPad and from Google Play for Androids.
*CIFAS released its latest fraud figures on 20th June 2013.
About Equifax
Equifax is a global leader in consumer, commercial and workforce information solutions, providing businesses of all sizes and consumers with information they can trust. We organize and assimilate data on more than 500 million consumers and 81 million businesses worldwide, and use advanced analytics and proprietary technology to create and deliver customized insights that enrich both the performance of businesses and the lives of consumers.