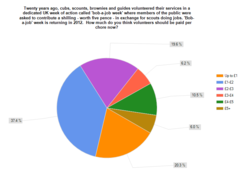 (PRWEB UK) 15 May 2012
Scout Community Week is being launched by the Scout Association this month, running from 14-20 May. Designed to encourage cubs, brownies, scouts and guides to do work to help their local community it's the 21st Century version of Bob-a-Job week. News of the revival of this 20th Century fundraising initiative prompted credit information provider, Equifax, to ask its customers what they think they would pay volunteers for per chore today. For those too young to know, a 'bob' was a shilling, which is the equivalent of 5p in today's money.
Over 1,200 consumers responded to the Equifax survey with more than a third (37.4%) saying they thought volunteers should be paid £1-£2 per chore. This is close to a literal conversion from the value of a shilling when bob-a-job week first started in 1949 – it would now be worth £1.34.
Some scouts, cubs, brownies and guides may, however, benefit from inflation with 19.6% of respondents saying they would pay £2-£3 per chore. But, unfortunately, 1 in 5 actually said they would only pay up to £1 to scouts and cubs who volunteered their services.
"This light-hearted survey seems to suggest that people will be willing to pay for volunteers to do some chores for them during Scout Community Week later this month," said Neil Munroe, External Affairs Director, Equifax. "And with the largest proportion of respondents opting for a value that equates to what a bob would be worth today that should raise some good funds for the Scouts Association.
"Interestingly though, when we asked the same consumers how much pocket money they thought a school-going child should be given per week, it appears inflation has had a greater impact. Just under half (45.9%) said £2-£5 and nearly a third (30.8%) said £5-£10. The majority though, did agree that children should 'earn' their pocket money with 83% saying cleaning their room should be rewarded and two thirds (66%) opting for helping with the washing up. Pocket money payments seem to be keeping track with inflation even if the price paid for chores carried out by volunteers hasn't!"
For further press information please contact: Louise Fowler, Clare Watson or Wendy Harrison at HSL on 020 8977 9132 / Fax: 020 8977 5200 or Email: louise(at)harrisonsadler(dot)com
About Equifax
Equifax is a global leader in consumer, commercial and workforce information solutions, providing businesses of all sizes and consumers with information they can trust. We organize and assimilate data on more than 500 million consumers and 81 million businesses worldwide, and use advanced analytics and proprietary technology to create and deliver customized insights that enrich both the performance of businesses and the lives of consumers.
Headquartered in Atlanta, Equifax operates or has investments in 17 countries, for more information please visit http://www.equifax.co.uk.