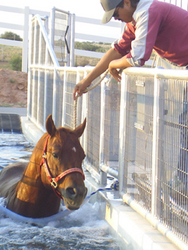 We consider ourselves as advocates for horses
Sedona, AZ (Vocus) February 26, 2010
Challenging, life-changing experiences, a dream, and a passion for horses motivated two women to establish RT Arrow Ranch on 32 acres in Cornville, Arizona. "We consider ourselves as advocates for horses," said Tracey Tuttle. "We promote quality care, honesty and integrity". Tuttle and Roberta Fagan have developed and grown the RT Arrow Ranch over the past 13 years to become a leader in providing mare care and foaling, breeding and A. I. boarding and, more recently, lay-up and rehabilitation."
Now they are the only ranch in Northern Arizona, and one of only a select few in the entire state, to provide the exclusive and profoundly effective HydroHorse Equine Treadmill System. This is a rehabilitation treatment for horses in any type of discipline; roping, cutting, dressage, halter, race, endurance, etc. and is used by equine professionals throughout the country.
"RT Arrow Ranch is excellent for any kind of horse, boasting a large arena area and exercising round pen with miles and miles of riding trails," Irene Miller of Cottonwood, Arizona, said. "It is also an excellent hydro therapy conditioning and rehabilitation facility for any horse that needs that kind of treatment."
Traditionally many ranches use swimming pools for rehabilitation and exercise. But unlike traditional swimming pool therapy, the HydroHorse Therapy System adds a treadmill to the rehabilitation environment. This engages the horse, allowing the animal to exercise in a controlled environment, using the same gate and muscle groups used when exercising on the ground, but without undue stress or trauma. The speed of the treadmill can be adjusted to encourage the horse, when it is able, to work harder. The powerful therapeutic effects derived from the system's temperature controlled water and Jacuzzi™ jets further stimulate rehabilitation. All of this ensures proper and controlled conditioning for virtually every facet of the horse's body while minimizing concussion, rendering an equine athlete to be better equipped to withstand the rigors of performance and to remain competitive for longer periods of time. "My horse Star, an 11-year-old Thoroughbred mare, suffered from an injury that caused a huge hematoma on the inside of her left hind leg," Linda Spenny from Cottonwood said. "Tracey consulted with me, as she always does, and recommended hydro therapy. I agreed, trusting Tracey's amazing expertise in the care of horses. Star had a 15-minute session in the HydroHorse Equine Treadmill System and the next morning when I came to see her, the hematoma was virtually non-existent. I am a new and strong believer in the benefits of hydrotherapy for horses."
This extremely effective therapy is used in treating such specific injuries as bowed tendons, pulled suspensory ligaments, bucked shins, saucer fractures, quarter cracks and foot problems and generally for the rehabilitation of the animal after any injury or surgery. An added benefit of the treatment is that the horse's lungs and heart receive maximum conditioning, improving their overall fitness for a healthy and active life.
For more information about the care, facilities and therapies please visit our website, http://www.RTArrowRanch.com. We invite you to call and schedule a tour of the ranch and experience first hand our location and our commitment exceptional Equine Care. For information, please call 928.634-7242.
# # #