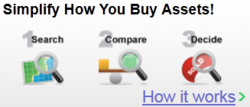 We scan the globe and when we identify an item that is currently well below market rate, we will deliver the alert right to your email inbox.
Austin, Texas (PRWEB) August 31, 2011
Searching for commercial equipment is a headache. Imagine trying to find an item by looking across thousands of storage facilities, warehouses, catalogs, and websites that have used equipment, used machinery, surplus inventory, and surplus raw materials available for sale. Today, it is nearly impossible for a buyer to collect available information and smartly search the millions of disparate surplus items currently for sale.
AssetBuyer.com has solved that problem by creating a commercial asset search site that combines the results of hundreds of online auction and listing sites. The results of this search are offered to buyers for free.
AssetBuyer has enhanced its offering by now adding DealAlerts. Now its "active search" technology can work for you! They scan the globe and when they identify an item that is currently well below market rate, they will deliver the alert right to your email inbox. They also post it to their Deal Alert Twitter page.
Receive DealAlerts from asset classes like Construction Equipment, Transportation Equipment, Agriculture Equipment, Energy Equipment, Computers & Servers, and Retail Goods. The Company connects its online shoppers to the leading commercial asset brands on the Internet today.
"We've assembled the largest selection of commercial assets on the web. With just a few minutes on our site, you can compare assets from hundreds of online auctions and listing sites that all sell commercial assets and find the best deal. Once you find the asset you're looking for, you can use our partner services to assist you with the transaction," states Jerry Peterson, co-founder of AssetBuyer.com
To sign up for DealAlerts, visit us at http://www.AssetBuyer.com/DealAlert
About AssetBuyer.com
AssetBuyer.com is the industry innovator in online commercial asset comparison shopping. Customers around the world use AssetBuyer to quickly obtain free and unbiased information about products, services, merchants and sellers before making a purchase decision.
# # #