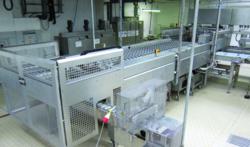 Cwmbran, South Wales, UK (PRWEB UK) 8 July 2011
Loseley Dairy Ice Cream Ltd. is a former luxury ice cream brand in the United Kingdom that encountered financial problems and ultimately had to sell their business. In April of this year, Loseley handed over the business to the administration company Portland Business & Financial Solutions as a result of facing strong competition in their industry and increased costs of raw materials.
Loseley invested over £10 million in the 80,000 square foot plant, which was built in 2004. The factory houses state of the art production lines and fully automated processing equipment. This plant was built primarily to produce ice cream, however many different items are for sale. Confectionery production equipment, storage tanks, and packaging equipment are all included in this auction. For more details on the items available in the auction, please visit rabin.com.
On Thursday, July 14, 2011, Rabin Worldwide, and their partners Indassol and CRG, will conduct a public auction of the equipment at the Hilton Newport Hotel in Newport, South Wales. This auction will utilize Rabin Live™ auction technology, which allows customers from all over the world to bid on items over the Internet in real time, in conjunction with onsite bidding. Previews and inspection of the equipment will take place on July 12th and 13th between 9:00 am and 4:00 pm at the facility in Cwmbran. Appointments can also be made to view the equipment earlier through Rabin's UK-based partner Indassol by calling 44(0) 207 036 0507.
To download a catalog for the sale or to receive further information contact Rabin Worldwide at +1.415.522.5700 or go to http://www.rabin.com.
# # #