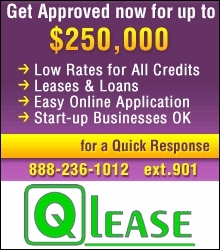 With a large inventory of equipment to work from and a quick application we can approve customers for as much as $250,000 in a matter of hours
Frisco, TX (PRWEB) March 4, 2008
Many companies need new or updated equipment to survive. Qlease.com now offers a great choice for those looking for a great deal on Commercial Trucks and Equipment and a quick solution with little paperwork and very favorable terms.
Off-Lease and Repo Equipment is quickly becoming the first choice for business owners when looking to purchase equipment and there are many good reasons for that "Our customers can now enjoy the simple one page application when applying for an inventory equipment lease" said Casey Jensen, Qlease.com president "With a large inventory of equipment to work from and a quick application we can approve customers for as much as $250,000 in a matter of hours" Jensen said. Not only is the application process easy but Terms on inventory equipment are usually far better than what you might expect on a standard deal. For example a customer can get into a $75,000 Dump Truck with just his first monthly payment, "you will not find a deal like that at your local bank" Jensen said. Equipment Leases also typically have some great tax advantages as well.
One of the main advantages behind buying a piece of off-lease or repo equipment is that the terms tend to be good for everyone, not just those with perfect credit. With aggressive structuring a piece of equipment will pay for itself over time and then can truly be considered a good business asset. For more information on Equipment Leasing and Off-Lease or Repo equipment visit Qlease.com.
Qlease.com Inventory Equipment includes, Dump Trucks, Boom Trucks, Box Vans and Delivery Trucks, Bucket Trucks, Concrete Equipment, Flatbed Trucks, Fuel and Lube Trucks, Garbage Trucks, Rolloff Trucks, Grapple Trucks, Landscaping Trucks, Mechanics Trucks, Sleeper Cab Trucks, Day Cab Trucks, Backhoes, Bulldozers, Crawler Tractors, Excavators, Forestry Equipment, Forklifts, Loaders, Skid Steers, Auto Hauler Trailers, Dry Van Trailers, Dump Trailers, Pup and Tandem Trailers and many other items, To see a brief list of equipment Qlease.com can finance visit http://www.qlease.com/equipment-financed.htm . Check http://www.Qlease.com for details about all programs.
Qlease.com is a full service commercial equipment leasing and finance company. Qlease.com has the ability to approve "A, B & C" Credits as well as Start-up Businesses. Qlease.com has aggressive rates for every deal. Getting approved can be as easy as filling out the Secure Online Application. Visit http://www.Qlease.com/apply.htm to Apply Now or for more information call 888-236-1012.
###