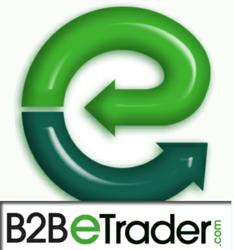 Our partnership with the IRTA helps us ensure that each barter members going through B2BeTrader adheres to all of the best practices and guidelines
St. Petersburg Fl (PRWEB) December 15, 2011
B2BeTrader is excited to announce its partnership with the International Reciprocal Trading Association, the same association responsible for promoting equitable standards in modern trade and barter.
Bartering has gone through a few radical changes over the years, especially since the advent of modern computing technology. These days, bartering means so much more than merely trading one's goods or services for another person's goods or services. Through organized bartering schemes (the same ones the IRTA regulates), companies can see dramatic improvements in overall efficiency by putting many of their unused assets to work.
B2BeTrader is getting in on this process, offering a quick and easy way for businesses to link up with one another to find used equipment for barter. Companies can use a third party organization to exchange the equipment for trade credit that they can then use to purchase advertising or other equipment they are in desperate need of.
"In today's economy," Jovan Haye, co-founder of B2BeTrader said, "it's getting harder for businesses to come up with the upfront capital to finance the advertising they need to grow. By working with the IRTA, we want B2BeTrader to become the dominant platform for the online organized bartering of used office equipment, farm equipment, medical equipment and many other types of equipment businesses need to get started."
As some businesses shrink and others expand, the proposition makes complete and total sense. Selling the equipment for cash sometimes isn't the best option for businesses that need to put their assets to use right away. "Our partnership with the IRTA helps us ensure that each barter members going through B2BeTrader adheres to all of the best practices and guidelines," Jovan added.
The partnership with the IRTA is only the beginning for B2BeTrader. The site plans to join several other organizations in the coming months, all in an effort to carefully regulate the listings that go through site. The goal is to make everything as secure as possible so more businesses, entrepreneurs, and used equipment dealers (asset recovery & liquidators) turn to B2BeTrader to buy or sell their used equipment.
"When more businesses use trade and barter instead of selling their used equipment, they find that they not only make the most efficient choice. They're also making a green choice." Jovan said. "We hope to show people that there's more than one way to peel a potato here. There are some excellent traders on our site, and they're looking to help businesses truly put all of their assets to use."
Business owners, equipment resellers, and entrepreneurs can find the equipment they're looking for on B2BeTrader.com. Any questions relating to the IRTA and the recent partnership can be forward to ramon(dot)alvarado(at)b2betrader(dot)com.
###