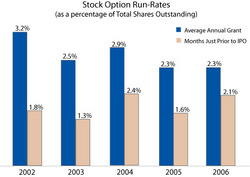 The companies are more profitable, their average stock option run-rates declined 20% since 2004, and the majority of their CEO's pay is delivered through 'at-risk' incentives, rather than guaranteed base salaries
San Francisco, CA (PRWEB) August 2, 2007
Equity ownership for founder CEO's decreased 25% compared to 2004, according to a 2007 survey of "IPO Executive Compensation Practices" that studied compensation levels of companies that went public over the past two years. The survey is published by Presidio Pay Advisors, a San Francisco compensation consulting firm.
The reduction of founder ownership over the years suggests companies are relinquishing more equity throughout the venture financing rounds preceding an IPO. This may be explained by the fact that companies waited 1.5 years longer (a median of 8.7 years) from founding to go public than IPO companies in 2004. However, in 27% of the companies surveyed, remaining founder CEO's still owned four times as many shares as non-founder CEO's after the IPO.
"The survey found that today's IPO companies are more 'shareholder friendly,'" said Kyle Holm, a Principal at Presidio Pay Advisors. "The companies are more profitable, their average stock option run-rates declined 20% since 2004, and the majority of their CEO's pay is delivered through 'at-risk' incentives, rather than guaranteed base salaries," Holm concludes.
Presidio Pay Advisors "2007 IPO Executive Compensation Practices" survey presents findings on executive pay and ownership levels in 187 newly public companies. The survey also found that:

Stock option overhang levels have fallen from the 25-30% range in 2000 to near 17%, an indication that tolerance for equity levels delivered to employees is decreasing.
Despite a 67% increase in median employee headcount, annual stock option grants were down 20%, suggesting a substantial contraction in the use of equity compensation, likely a reaction to stock option expensing.
Restricted stock use for executives is up 60% from prior years, which may in part explain the drop in stock option grant rates, as companies shift their equity compensation to long-term incentive vehicles with a known cost at the time of grant.
The majority of companies that went public were profitable at the time of IPO, a notable difference from the prior year's survey, in which 60% of companies were not profitable.
About Presidio Pay Advisors, Inc.
Presidio Pay Advisors is a San Francisco-based compensation consulting firm that provides companies with independent, strategic advice and support on a wide range of compensation issues. The firm's collective expertise encompasses a diverse array of human resources, finance, accounting, regulatory, and shareholder perspectives. You can find the IPO survey and industry-specific compensation surveys on their website at http://www.presidiopay.com.
Presidio Pay Advisors "2007 IPO Executive Compensation Practices" complimentary synopsis is available to the media to download, or by contacting Kyle Holm at 415-438-3400. The survey is available to the public to purchase for $2000 at Presidio Pay's website.
###