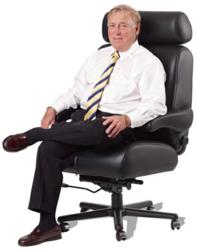 We offer unparalleled comfort, quality and support that's based on our legacy of building world-class automotive seating
Gardena, CA (PRWEB) January 31, 2012
ERA Products, manufacturers of hand-crafted office chairs, announced today the launch of their new website showing off their product line is now online and available for view. While ERA Products makes a full line of office seating as well as seats for the automotive industry, they are well-known for manufacturing chairs that are designed for larger and taller people.
The company started over 35 years ago, building automobile seats for General Motors, Ford and Chrysler. Each chair is built by hand, using ERA Product's exclusive designs and an all-steel frame – making their chairs virtually indestructible. All chairs are built in their factory, located in Gardena, California.
"We offer unparalleled comfort, quality and support that's based on our legacy of building world-class automotive seating," stated Roy Alter, VP of ERA Products. "It's craftsmanship you simply can't duplicate any other way, and we take great pride in our chairs by offering a limited lifetime warranty."
ERA Products offers their Comfort Plus+ Series of office seating, built specifically for larger and taller bodies. The chairs are fully adjustable, and the steel frame is ergonomically designed to hold up to 400 pounds while providing the user with all-day comfort. Features include a 4-way adjustable lumbar support, flip up arms for easy entry and exit and a sliding seat cushion that adjusts to an individual's leg length.
The company's Intensive Use Series chairs are designed for the rigors of dispatch centers, retaining their shape while providing non-stop comfort despite repeated 24x7 use. These chairs are built to take a beating while being ergonomically designed and are fully adjustable to reduce stress.
ERA Products has won the prestigious ADEX award for design. Each ERA chair is custom made to order based on personal preferences. All leather is hand cut and hand-crafted.
The new website features the entire line of office seating with photos and full product descriptions. View the ERA Products office seating line at http://www.eraproducts.com.
###