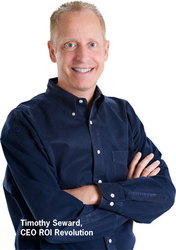 Arlington, VA (PRWEB) May 7, 2010
On Thursday, May 13, the Electronic Retailing Association (ERA) will present a free webinar titled "Boost Google AdWords Results With Five Simple Hands-on Tactics." Tom Dellner, ERA's director of content, will be moderating and Timothy Seward of ROI Revolution will be leading this live one-hour webinar.
This complimentary online webinar will feature practical lessons on how to optimize your Google AdWords account, including tips on how to "cut the fat" from your account and eliminate wasteful spending, as well as insights into how to lower your AdWords click prices while increasing traffic to your website. Attendees will gain actionable, easy-to-implement best practices that will have an instant impact on the ROI of their search marketing efforts.
Seward is the president and founder of ROI Revolution, a data-driven and Google AdWords qualified company.
The webinar takes place on Thursday, May 13 at 2:00 p.m. (EDT). Visit http://www.retailing.org/webinars to register for this free webinar.
About the Electronic Retailing Association
Representing a more than $300 billion market, the Electronic Retailing Association (ERA) is the only trade association in the U.S. and internationally that represents leaders of the direct-to-consumer marketplace, which includes members that maximize revenues through electronic retailing on television, online and on radio. ERA strives to protect the regulatory and legislative climate of direct response while ensuring a favorable landscape that enhances e-retailers' ability to bring quality products and services to the consumer. ERA members include some of the industry's most prominent retail merchants, including Allstar Marketing, eBay, Discovery Communications, Gaiam, Google, Guthy-Renker Corporation, HSN, Oaklawn Marketing, QVC, Telebrands, ShopNBC and Thane. For more information about ERA, please visit http://www.retailing.org.
###