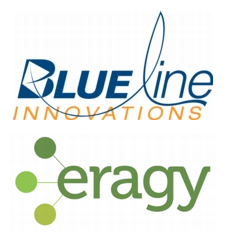 San Francisco, CA and Durham, NC (PRWEB) November 01, 2011
Blue Line Innovations, the makers of the PowerCost Monitor™, and Eragy, a leading provider of award-winning energy management software applications and services, today announced a strategic partnership for delivering home energy management solutions.
Under the terms of the partnership, Blue Line Innovations and Eragy will be providing a suite of home energy monitoring and control solutions for consumers, energy efficiency professionals, Control4® dealers, and utilities.
"Blue Line Innovations has established a leadership position in the industry with their easy-to-use and easy-to-install PowerCost Monitor products," said Mark Komanecky, Eragy's Vice president of Sales and Marketing. "The combination of the PowerCost Monitor and Eragy's energy software platform enables us to deliver easy-to-deploy and engaging energy monitoring and intelligent demand management solutions irrespective of the meter type – old or new, dumb or smart."
Engaging Energy Management for Consumers
With existing PowerCost Monitor hardware, Eragy's free myEragy application offers several layers of engagement options for homeowners including web and smart phone data presentation, enabling homeowners to save up to 20% or more on their monthly electric bills.
The PowerCost Monitor features a universal optical sensor that slips over the outside of virtually any electricity meter and then feeds that energy data in real-time up through a WiFi Gateway to Eragy's secure web portal. It's a simple, step-by-step installation process with no electricians required.
"The Eragy platform offers a terrific layer of engagement options for consumers. It absolutely addresses what we have been hearing from existing customers," said Peter Porteous, CEO Blue Line Innovations. "Eragy allows the homeowner to start with a terrific suite of free data presentation options and then move to integrating and managing heating and cooling, hot water heaters, and other key systems in their homes."
The Eragy platform also includes a number of proactive alerts and notifications via email and text/SMS messages. Homeowners can receive alerts on their projected energy costs, when they exceed their monthly budget, and even get notified if their internet service is malfunctioning. Eragy also supports utility-specific energy alerts, such as notifying PowerCost Monitor users when they are close to moving into a higher rate tier.
Easy to Install Energy Management Solutions for Control4 Applications
The combination of Eragy's third generation energy management app for Control4® systems, Watt's on Now! and the Blue Line PowerCost Monitor, provides Control4 dealers with an easy to install energy management solution for homeowners. The PowerCost Monitor connects wirelessly to a Control4 system, enabling Control4 dealers to install energy management systems in both new and existing homes.
Homeowners can then harness the power of Eragy's software and Control4's affordable IP-based home control system to control thermostats, lighting, and other systems in the home to maximize energy savings. Users can conveniently monitor their energy usage from their TV screen, tablet, Control4® touch screen, smart phone, or web browser, providing consumers with numerous options for monitoring and managing their energy consumption.
"The combination of Eragy's latest Control4 4Store™ energy application and the Blue Line PowerCost Monitor will make it easier than ever for Control4 dealers to install energy management systems for their clients," stated Jim Arnold VP, Senior Vice President of Sales for Control4, "We are happy to see Eragy build upon their previous apps and services and expand their portfolio of energy-saving solutions for Control4 dealers and end-users."
Professional Solutions for Utilities and Energy Efficiency Contractors
The combination of the Blue Line PowerCost Monitor and Eragy's myEragy PRO platform enables utilities to rapidly deploy the first phase of consumer energy monitoring programs without the need for smart meters. myEragy PRO also provides a scalable platform for utilities to further reduce peak demand on the grid via Eragy's award-winning Intelligent Demand Management applications.
"We have demonstrated the Blue Line - myEragy PRO solution to several utilities already and the response has been terrific", said Porteous. "Utilities can now implement a full suite of demand and load control initiatives without any change to their existing meter infrastructure. This allows smaller utilities, co-ops, or those utilities not yet ready to make a significant grid/meter upgrade capital decision to deploy effective peak load shed and overall consumption reduction programs."
Energy efficiency and weatherization professionals can also benefit from the combination of the Blue Line PowerCost Monitor and myEragy PRO. By deploying the PowerCost Monitor in conjunction with Eragy's software, energy professionals and homeowners can be ensured that energy efficiency and weatherization projects deliver maximum energy savings.
The Eragy/Blue Line solution for Control4 systems will be available later this month through Eragy's authorized Control4 dealers in the US and Canada.
Eragy/Blue Line solutions for consumers, utilities, and energy efficiency professionals are available now.
About Eragy
Eragy, Inc. is a leading provider of award-winning energy management software applications and services. Eragy's initial services include energy monitoring, intelligent demand management and smart home system monitoring. Users can achieve energy cost savings of up to 30% per month. Eragy enables its dealers to generate recurring revenue via energy monitoring, demand management and smart home monitoring services. For more information please visit http://www.eragy.com.
About Blue Line Innovations
Blue Line Innovations Inc. developed and markets the PowerCost Monitor™, a line of wireless, portable, real-time energy reporting devices for the home. Blue Line Innovations has been active in the business of real time energy feedback for 6 years with over 150,000 PowerCost Monitors™ in the market since 2004. Easy to install, the PowerCost Monitor™, communicates wirelessly to the meter and now through a series of Gateways to the internet, mobile devices and to home area networks. Independent research has confirmed that homes using the PowerCost Monitor™ can save up to 18% on their monthly electricity bill. For more information and the retailer in your area see, http://www.bluelineinnovations.com.
Useful links:
Online images - http://bitURL.net/cama
Full product information and retailer locator - http://bitURL.net/cak9
myEragy overview video - http://bitURL.net/cax6
Copyright© 2011 Blue Line Innovations, Inc. and Eragy Inc. All rights reserved.
###