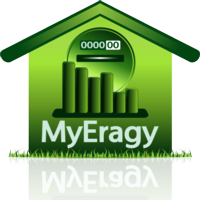 Durham, NC (PRWEB) June 28, 2011
Eragy, Inc., leading provider of award-winning energy management software applications and services, today announced its MyEragy family of energy services for homeowners and professionals.
Eragy's energy monitoring software for consumers, MyEragy, is a free energy monitoring service that allows homeowners to view their home's energy usage and cost from anywhere online. MyEragy, coupled with a compatible in-home power sensor, enables homeowners to save up to 20% or more off their monthly electric bills.
MyEragy Pro is an energy monitoring and management tool available for utilities, solar installers, energy efficiency and weatherization contractors, and other service providers. MyEragy Pro provides a scalable platform for monitoring and managing home energy usage and verifying the performance of installed energy saving systems while giving homeowners an easy way to monitor and view their energy savings.
Eragy further establishes leadership position in home energy management
MyEragy now offers an exciting alternative to existing energy tools such as Google PowerMeter™ and Microsoft Hohm™ by providing consumers with valuable information and alerts on their real-time and historical energy consumption.
MyEragy allows homeowners to monitor the details of their energy consumption to best understand how they can reduce their energy bills. MyEragy provides homeowners with the ability to monitor their whole house energy consumption. In addition, homeowners can track energy used by individual appliances and circuits within their homes when used with a compatible power sensor. Unlike competing solutions, MyEragy also enables homeowners to easily monitor the energy generated by solar, wind, gas generators, and other renewable energy sources.
Using Eragy's proprietary Utility Rate Engine technology, MyEragy makes it easy for users to understand their energy costs based on their actual utility rate plan. MyEragy includes a database of utility rate plans and supports flat rate, tiered, demand, time-of-use, and even complex combinations of these rate types.
Like Eragy's current home energy monitoring products for Control4® systems, MyEragy also includes a number of proactive alerts and notifications via email and text/SMS messages. Homeowners can receive alerts on their projected energy costs, when they exceed their monthly budget, and get notified if their power sensor is malfunctioning. MyEragy even supports utility-specific energy alerts, such as notifying homeowners when they are close to moving into a higher rate tier.
MyEragy Provides Many Hardware Options
The MyEragy platform is hardware agnostic and supports a number of Internet-enabled power sensors, including Energy Inc.'s TED5000 family and the eGauge from eGauge Systems, with future support for the CurrentCost Envi. Eragy plans to support additional power sensors and smart meters in upcoming versions of MyEragy.
"Eragy has been a valued partner since the introduction of their energy monitoring solutions for our TED 5000 series products," said Dolph Rodenberg, President of Energy, Inc.  "The MyEragy family of services provides impressive solutions for both homeowners as well as utilities, solar contractors, and other energy efficiency professionals."
"We look forward to expanding our relationship with Eragy and supporting their new MyEragy services," said Greg Greenan, Vice President of eGauge Systems.  "The combination of MyEragy and the eGauge power sensor provides one of the most powerful energy saving solutions in the industry."
"The MyEragy family of services is a perfect complement to our Envi Home Energy Monitor," said Robin Pearl, General Manager for PowerSave, the North American Master Distributor for Current Cost Ltd. "We look forward to supporting MyEragy in our current and next-generation energy monitoring products."
Utilities Also Benefit From MyEragy
MyEragy Pro enables utilities to rapidly deploy the first phase of consumer energy monitoring programs using a variety of Internet-enabled power sensors with support for smart meters in the future. MyEragy Pro provides a scalable platform for utilities to provision and manage these customers without investment in their hardware infrastructure. In addition, Eragy's Alerting and Engagement engine give utilities a valuable tool for encouraging homeowners to better understand and reduce their energy consumption while reducing peak demand on the grid and overall energy usage.
"By informing consumers and encouraging energy saving, MyEragy will contribute to increased electric grid efficiency and overall system effectiveness," said Ken Huber, Consultant to PJM Interconnection, a regional transmission organization that manages the high-voltage electricity grid for more than 54 million people. "Empowering and providing incentives to consumers is key to the success of the smart grid."
Utilities who promote energy efficiency and weatherization programs for their residential customers can also benefit from MyEragy Pro. By promoting the use of MyEragy Pro by their approved energy efficiency contractors, utilities provide an added benefit to their customer base by ensuring that energy efficiency and weatherization projects deliver their expected energy savings.
The MyEragy free service and MyEragy Pro are both available now from Eragy.
About Eragy
Eragy, Inc. is a leading provider of award-winning energy management software applications and services. Eragy's initial services include energy monitoring, intelligent demand management and smart home system monitoring. Users can achieve energy cost savings of up to 30% per month. Eragy enables its dealers to generate recurring revenue via energy monitoring, demand management and smart home monitoring services. For more information please visit http://www.eragy.com.
Copyright© 2011 Eragy Inc. All rights reserved.
###