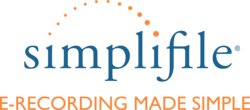 Going 'paper-less' saves money two-fold for the consumer and the tax payer.
Brown County, MN (PRWEB) April 18, 2013
Brown County, Minn., is now accepting land documents for e-recording through Simplifile, the nation's largest and fastest-growing electronic recording (e-recording) service provider.
E-Recording is a method of submitting, receiving, and processing land documents for recording via the Internet that have traditionally been delivered to the county for recording by runner, mail, or courier service.
"Brown County Recorder's Office is excited to offer e-recording services and the ability to enrich our services to the public and our submitters," said Betti Kamolz, Brown County recorder and registrar of deeds. "We'd like to make the transaction as easy as possible for all customers. Coming on board was a way to advance in our office and please many clients both local and distant."
Kamolz also acknowledged e-recording provides faster turnaround of recorded documents, decreases errors and reduces postage expense.
"Going 'paper-less' saves money two-fold for the consumer and the tax payer. With the help and cooperation of the Auditor Treasurer's Office and Assessor's Office this transition is going smoothly and seamlessly," Kamolz added.
The Legal Professionals in New Ulm, Minn., was the first organization to e-record in Brown County, successfully filing a warranty deed and mortgage earlier this week.
"The convenience of recording documents from our office and receiving information within minutes are the biggest benefits we receive by e-recording," said Kim Hanson, a paralegal at The Legal Professionals.
"E-Recording will also benefit our clients. Our files will turn around more quickly after closing," Hanson said. "Also, if a document is time sensitive, we now have the greater ability to meet client's needs and goals in a timely manner."
Like many document submitters around the country, Hanson said her company's goal is to e-record 100 percent of their documents, which will require additional counties they work with to become enabled for e-recording.
There are currently 52 Minnesota counties e-recording with Simplifile, and more than one quarter of the nation's recording jurisdictions in total have adopted Simplifile's e-recording service.
For more information about e-recording or to begin submitting electronic documents to Brown County call 800-460-5657 or visit simplifile.com.
About Simplifile
Simplifile is the nation's largest and fastest-growing e-recording service. Simplifile supports thousands of e-recording customers including title companies, banks, attorneys, lien filers, and other organizations that create and submit documents to more than 850 local, state, and federal government jurisdictions. Simplifile's electronic document services save time and expenses associated with traditional document submission methods. Simplifile is focused on building the industry's largest and easiest-to-use e-recording service for organizations of all shapes and sizes. More information about Simplifile may be found at simplifile.com or by calling 800-460-5657.
"Simplifile" is a registered service mark of Simplifile, LC.