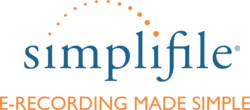 Our customers can submit the document right from their office with no extra paperwork, postage, staples or time. It's a win-win.
GREEN LAKE COUNTY, Wis. (PRWEB) May 08, 2013
Green Lake County has initiated electronic recording (e-recording) of land documents with Simplifile, the largest e-recording service provider in the nation, enabling organizations to submit documents more conveniently online, among other time and cost-saving benefits.
"Our customers can submit the document right from their office with no extra paperwork, postage, staples or time," said Green Lake County Register of Deeds Sarah Guenther. "It's a win-win."
According to Guenther, who took office as Green Lake County's register of deeds in January, her goal is to have 25 percent of customers e-recording by the end of the year.
"Part of my promise to the voters and citizens of Green Lake County when I took office was to automate our services and provide submitters with an electronic option to save money and time," Guenther said.
Document submitters include organizations such as title companies, banks, law firms, and other customers who file various land documents with the county.
"Not only do e-recording customers save time and money, but using Simplifile also helps to eliminate errors, reduce rejections, and just makes the whole recording process much more simple," said Paul Clifford, president of Simplifile.
Green Lake County is the 35th Wisconsin county to begin e-recording, joining more than 850 additional recording jurisdictions throughout the U.S. that e-record with Simplifile.
Simplifile provides one on one training and support for its customers. For more information about e-recording in Green Lake County call 800-460-5657 or visit simplifile.com.
About Simplifile
Simplifile is the nation's largest and fastest-growing e-recording service. Simplifile supports thousands of e-recording customers including title companies, banks, attorneys, lien filers, and other organizations that create and submit documents to more than 880 local, state, and federal government jurisdictions. Simplifile's electronic document services save time and expenses associated with traditional document submission methods. Simplifile is focused on building the industry's largest and easiest-to-use e-recording service for organizations of all shapes and sizes. More information about Simplifile may be found at simplifile.com or by calling 800-460-5657.
"Simplifile" is a registered service mark of Simplifile, LC.
# # #