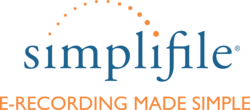 Simplifile has been very easy to work with and we are excited to move forward with this technology.
SIBLEY COUNTY, Minn. (PRWEB) June 03, 2013
Nationwide electronic recording (e-recording) service provider Simplifile has teamed up with Sibley County, Minn., to provide a faster, online recording option for title companies, banks, attorneys and other land document submitters.
"Simplifile has been very easy to work with and we are excited to move forward with this technology," said Sibley County Recorder Kathy Dietz.
Dietz first learned about e-recording in 2005 when she became the recorder and is happy to see it up and running.
"Sibley County customers will be able to avoid mailing documents and traveling to the county to submit documents for recording," said Paul Clifford, president of Simplifile. "It's just one of the many benefits that come with e-recording in addition to expedited recording and reduced document errors and rejections."
As a race-to-record state, more and more Minnesota counties like Sibley have recently adopted Simplifile's e-recording service and have seen vast improvements in the overall recording process.
Sibley County is the 55th county to begin e-recording with Simplifile, joining more than 900 recording jurisdictions across the nation that are also part of Simplifile's e-recording network.
Simplifile provides free training and 24/7 customer support. For more information or to e-record in Sibley County call 800-460-5657 or visit simplifile.com.
About Simplifile
Simplifile is the nation's largest and fastest-growing e-recording service. Simplifile supports thousands of e-recording customers including title companies, banks, attorneys, lien filers, and other organizations that create and submit documents to more than 900 local, state, and federal government jurisdictions. Simplifile's electronic document services save time and expenses associated with traditional document submission methods. Simplifile is focused on building the industry's largest and easiest-to-use e-recording service for organizations of all shapes and sizes. More information about Simplifile may be found at simplifile.com or by calling 800-460-5657.
"Simplifile" is a registered service mark of Simplifile, LC.
# # #