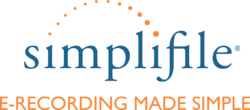 E-Recording is not only a faster recording method, but it also increases security.
RANDALL COUNTY, Texas (PRWEB) April 25, 2013
Randall County, Texas, is now accepting electronic documents for recording through Simplifile, the nation's largest and fastest-growing electronic recording (e-recording) service provider.
With this newly available e-recording service, title companies, banks, law firms and other organizations that submit documents to Randall County's recording office will be able to quickly and conveniently submit land documents online through Simplifile's web-based software; thus, they eliminate the need to submit original documents by express mail, runner or courier service.
"E-Recording is not only a faster recording method, but it also increases security," said Paul Clifford, president of Simplifile. "Instead of having to mail original documents, the submitter retains control, as the scanned, electronic versions of the 'paper originals' are safely submitted to the county. In addition, instead of mailing checks, all taxes and fees are processed electronically through ACH, or Automated Clearing House."
Current Simplifile users also acknowledge that e-recording helps to reduce errors and rejections and contributes to many of their "green" initiatives by reducing paper and the fuel they would use to drive to the recording office.
First American Title in Amarillo, Texas, was the first local organization to successfully e-record a document using Simplifile in Randall County.
Randall County is the 45th Texas recording jurisdiction to begin e-recording with Simplifile.
For more information about e-recording or to begin e-recording in Randall County call 800-460-5657 or visit simplifile.com.
About Simplifile
Simplifile is the nation's largest and fastest-growing e-recording service. Simplifile supports thousands of e-recording customers including title companies, banks, attorneys, lien filers, and other organizations that create and submit documents to more than 870 local, state, and federal government jurisdictions. Simplifile's electronic document services save time and expenses associated with traditional document submission methods. Simplifile is focused on building the industry's largest and easiest-to-use e-recording service for organizations of all shapes and sizes.
More information about Simplifile may be found at simplifile.com or by calling 800-460-5657.
"Simplifile" is a registered service mark of Simplifile, LC.
# # #