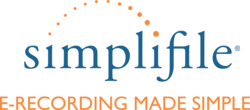 Our goal is to provide more efficient government services to the residents of Lackawanna County through the professional services of Simplifile at no cost to the taxpayers.
SCRANTON, Pa (PRWEB) April 05, 2013
Lackawanna County, Pa., has initiated electronic recording (e-recording) of land documents with Simplifile, the nation's largest e-recording service, and will be hosting a kickoff meeting on April 22, 2013 at 10 a.m. at the Recorder of Deeds office to demonstrate the system and help new or interested users learn the benefits of the e-recording.
"We decided to start e-recording to expedite the recording process and reduce the handling of paperwork in our office by having the submitter partially index and scan their documents," said Lackawanna County Recorder of Deeds Evie Rafalko, who is anxious to see more submitters start using the service. "Our customers are pleased to save time not having to come to the office to record. They save postage, and most importantly to their clients, their documents are recorded within minutes."
Simplifile's web-based service enables document submitters such as title companies, banks, and attorneys to electronically scan, upload, submit and track the status of documents sent to the county for recording via the Internet. Once the county's recording office receives the documents online, the county can then quickly record or reject and return the document, cutting the usual wait time for the submitter from days or weeks down to hours or minutes by e-recording.
"Our goal is to provide more efficient government services to the residents of Lackawanna County through the professional services of Simplifile at no cost to the taxpayers," Rafalko said.
Mail, postage, courier fees, check-writing expenses, and other costs associated with traditional paper document recording methods are eliminated by e-recording with Simplifile among other advantages such as increased document security and fewer rejections or payment errors.
"Our experience with Simplifile has been a pleasant, professional and most gratifying one," Rafalko said. "Whenever a question or problem arose, they were quick to respond to our questions and help us."
Rafalko added that Simplifile's service integrated well with the county's current recording system at no additional cost to the county.
The kickoff meeting will be held on Monday, April 22, 2013, at the recorder's office in the Gateway Center Conference Room at 135 Jefferson Ave. in Scranton where Simplifile representative John Riddell will be present to demonstrate the system and answer questions.
To RSVP for the Lackawanna County kickoff meeting email John Riddell at john.riddell (at) simplifile (dot) com or call 610-931-6727. For more information about e-recording call 800-460-5657 or visit simplifile.com.
About Simplifile
Simplifile is the nation's largest and fastest-growing e-recording service. Simplifile supports thousands of e-recording customers including title companies, banks, attorneys, lien filers, and other organizations that create and submit documents to more than 850 local, state, and federal government jurisdictions. Simplifile's electronic document services save time and the expense associated with traditional document submission methods. Simplifile is focused on building the industry's largest and easiest-to-use e-recording service for organizations of all shapes and sizes. More information about Simplifile may be found at simplifile.com or by calling 800-460-5657.
"Simplifile" is a registered service mark of Simplifile, LC.