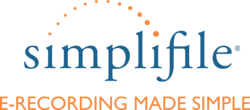 No longer will courthouse hours of 9 a.m. to 5 p.m. be a controlling factor in their work day.
ROCKINGHAM COUNTY, Va. (PRWEB) April 02, 2013
Simplifile, the nation's largest and fastest-growing electronic recording (e-recording) service provider, has added a new Virginia recording jurisdiction, Rockingham County, to its network of more than 850 U.S. counties currently accepting electronic documents, such as deeds and mortgages, for recording.
"Since I took office, it has been our focus to not only save the time of staff, which directly relates to taxpayer funding, but also save taxpayer time directly when they seek this office to do business with," said Chaz W. Evans-Haywood, Clerk of the Circuit Court in Rockingham County and the City of Harrisonburg.
According to Evans-Haywood, this newly available electronic filing option will give users an additional nine hours in the morning and six hours and 59 minutes in the evening on any given work day to submit their filings, which is sometimes needed to complete a closing and get the items recorded.
"No longer will courthouse hours of 9 a.m. to 5 p.m. be a controlling factor in their work day," Evans-Haywood said.
Simplifile's e-recording service enables document submitters such as title companies, banks attorneys and lien filers to scan, upload and submit documents to the clerk's office online, eliminating postage, mail, and courier fees, among other cost and time-saving benefits.
"Customers will be able to pass on savings directly to their clients, who are often constituents this office is meant to serve. As Clerk of Court, I am proud that we are a leader in the use of technology in the Commonwealth of Virginia," Evans-Haywood said.
The clerk's office will be hosting free training sessions April 3-4, 2013, where Simplifile representative Bob Gannon will be present to demonstrate the system and answer questions.
"E-Recording has truly become the standard for recording public documents today, and we are excited to help expedite the process for those who record in Rockingham County," said Paul Clifford, president of Simplifile. "Simplifile is the most convenient and secure online recording method for sending documents to and from the county. Thousands of customers all over the nation use Simplifile to deliver their documents for recording and always tell us how anxious they are for new counties to make our e-recording service available."
For more information about e-recording in Rockingham County call 800-460-5657 or visit simplifile.com.
About Simplifile
Simplifile is the nation's largest and fastest-growing e-recording service. Simplifile supports thousands of e-recording customers including title companies, banks, attorneys, lien filers, and other organizations that create and submit documents to more than 850 local, state, and federal government jurisdictions. Simplifile's electronic document services save time and the expense associated with traditional document submission methods. Simplifile is focused on building the industry's largest and easiest-to-use e-recording service for organizations of all shapes and sizes. More information about Simplifile may be found at simplifile.com or by calling 800-460-5657.
"Simplifile" is a registered service mark of Simplifile, LC.
# # #