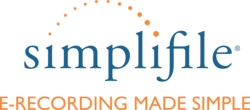 This will greatly speed up the process of recording documents, and our customers will be able to file documents in a very short time frame.
TANEY COUNTY, Mo. (PRWEB) May 17, 2013
Simplifile, the nation's largest e-recording provider, has expanded its network in Missouri, making e-recording immediately available in Taney County. The newly available e-recording service will expedite the recording process and reduce costs for document submitters.
"This will greatly speed up the process of recording documents, and our customers will be able to file documents in a very short time frame," said Taney County Recorder Robert Dixon. "All of our records are online and the process of traveling to our office or mailing documents will be greatly reduced."
According to Dixon, all of the documents submitted electronically through Simplifile's web-based software will be processed upon receipt and returned.
"Simplifile is a great company with a wonderful reputation, and we are very much looking forward to working with them," Dixon said.
One of the big reasons Taney County decided to start e-recording was to meet the growing demand and requests from their customers to offer the service.
"The difference that e-recording makes in the document recording workflow is huge," said Paul Clifford, president of Simplifile. "We are excited to have Taney County join our e-recording network and know that they will continue to see the benefits that e-recording provides for both the county and their constituents."
Simplifile's e-recording service is currently available in just over 30 percent of Missouri's counties and more than one quarter of the nation's total recording jurisdictions.
Simplifile's e-recording service also helps to reduce rejected documents, payment errors, check-writing expenses, and other expenses associated with traditional, paper document recording.
Simplifile provides one on one training as well as 24/7 customer support. For more information about e-recording in Taney County call 800-460-5657 or visit simplifile.com.
About Simplifile
Simplifile is the nation's largest and fastest-growing e-recording service. Simplifile supports thousands of e-recording customers including title companies, banks, attorneys, lien filers, and other organizations that create and submit documents to nearly 900 local, state, and federal government jurisdictions. Simplifile's electronic document services save time and expenses associated with traditional document submission methods. Simplifile is focused on building the industry's largest and easiest-to-use e-recording service for organizations of all shapes and sizes. More information about Simplifile may be found at simplifile.com or by calling 800-460-5657.
"Simplifile" is a registered service mark of Simplifile, LC.
# # #