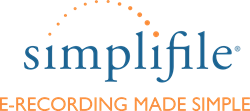 Customers will no longer have to wait several days or weeks for recorded documents to be returned to them by mail.
WARREN COUNTY, Ga. (PRWEB) April 19, 2014
The Warren County Superior Court Clerk's office is now accepting electronic land documents for recording through Simplifile, the nation's largest e-recording service, providing a faster, more convenient recording technology.
"We're excited to welcome Warren County as our newest e-recording jurisdiction in the state of Georgia and to help the clerk's office save on paper and mailing expenses, along with their customers," said Paul Clifford, president of Simplifile.
With the availability of e-recording, customers ranging from title companies, real estate attorneys, banks, lien filers, and other document submitters will be able to quickly scan, upload, and submit documents to the clerk's office online using Simplifile's web-based service, eliminating mailing costs and paper waste.
"Customers will no longer have to wait several days or weeks for recorded documents to be returned to them by mail," Clifford added. "E-recording makes it possible for documents to be submitted, reviewed, stamped, recorded, and returned the same day. It's more convenient and more cost-effective in every way compared to paper recording."
Other benefits of e-recording included fewer rejected documents and fewer payment errors, as recording fees are more accurately and securely processed with the county through Simplifile's web-based service.
Warren County joins 11 other e-recording counties in Georgia that have also implemented Simplifile's service for faster, more efficient real estate document recording.
For more information about e-recording in Warren County, call 800-460-5657 or visit simplifile.com.
About Simplifile
Simplifile is the nation's largest and fastest-growing e-recording service provider. Simplifile supports thousands of e-recording customers including title companies, banks, attorneys, lien filers, and other organizations that create and submit documents to more than 1,060 local, state, and federal government jurisdictions. Simplifile's electronic document services save time and the expenses associated with traditional document submission methods. Simplifile is focused on building the industry's largest and easiest-to-use e-recording service for organizations of all sizes. More information about Simplifile may be found at simplifile.com or by calling 800-460-5657.
# # #