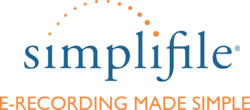 We're excited about the opportunity to partner with Simplifile and take our first step into the world of e-recording.This new venture will help us better serve the citizens of Yellowstone County and allow us to operate in a much more efficient environment
YELLOWSTONE COUNTY, Mont. (PRWEB) May 30, 2013
Simplifile, the nation's largest e-recording service provider, recently announced Yellowstone County, Mont., now offers e-recording for land record documents, a faster, more cost-effective recording option for title companies, banks, attorneys and other organizations that record in Yellowstone County.
"We are excited about the opportunity to partner with Simplifile and take our first step into the world of e-recording," said Jeff Martin, Yellowstone County clerk and recorder. "This new venture will help us better serve the citizens of Yellowstone County and allow us to operate in a much more efficient environment. Anytime government becomes more efficient by offering better services it is a win-win for everyone."
Simplifile's e-recording service expedites the recording service by enabling customers to scan, upload and submit land documents such as deeds and mortgages to the county as well as submit payments to the county through the company's secure web-based software. This saves both the county and its submitters time and money as neither party has to use the mail or deal with checks or paper.
"E-Recording is so much more convenient for customers because they don't have to rush to get to the post office or courthouse by a specific time," said Paul Clifford, president of Simplifile. "That's the beauty of Simplifile; it's makes the recording process more convenient and simple for both parties and takes the hassle of submitting documents by mail or traveling to the county out of the equation."
With the addition of Yellowstone County, over 55 percent of Montana's counties offer e-recording through Simplifile.
Simplifile provides free training and 24/7 customer support. For more information about e-recording call 800-460-5657 or visit simplifile.com.
About Simplifile
Simplifile is the nation's largest and fastest-growing e-recording service. Simplifile supports thousands of e-recording customers including title companies, banks, attorneys, lien filers, and other organizations that create and submit documents to more than 900 local, state, and federal government jurisdictions. Simplifile's electronic document services save time and expenses associated with traditional document submission methods. Simplifile is focused on building the industry's largest and easiest-to-use e-recording service for organizations of all shapes and sizes. More information about Simplifile may be found at simplifile.com or by calling 800-460-5657.
"Simplifile" is a registered service mark of Simplifile, LC.
# # #