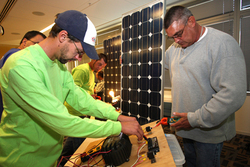 The purpose of starting eRenewable Resource Institute was to train capable people in tomorrow's technology in order to get them back to work, today!
Mesa, AZ (PRWEB) April 7, 2010
With Arizona school funding dwindling, starting a post secondary solar school during a recession may not seem like a smart business move. But when 20 year staffing veteran and trainer, Donna Marie Bertault, discovered the lack of quality renewable energy education for her Arizona construction clients, she opened eRenewable Resource Group and, this year, eRenewable Resource Institute. The first state approved private post secondary solar school in Arizona.
To date, over 300 students have participated in both beginning and advanced level hands-on solar photovoltaic design and installation courses. Beginning April 19th until April 23rd eRenewable Resource Institute will conduct an intensive five day Pv100: Solar Design and Installation class designed for beginners just starting out in the Solar industry.
The PV 100 teaches focuses on basic photovoltaic (PV) systems applications and core concepts necessary to work with both residential and commercial PV (solar energy) systems. Students learn design concepts of residential-sized, code compliant, battery-less grid-tied and stand-alone systems. The course also qualifies students to take the nationally recognized NABCEP PV Entry Level Exam. The five day session includes four days of classroom and one day of hands-on installation or labs. Seating is limited and preregistration is required. For more information call (480) 446-0400 or visit http://www.erenewableresource.com.
In December 2009, eRenewable Resource Institute, formally eRenewable Resource Group, headquartered in Mesa, Arizona, was approved by the Arizona State Board for Private Postsecondary Education as first private post secondary renewable energy school in Arizona. Since 2008, eRenewable has been in partnership with Rio Salado College to provide North American Board of Certified Energy Practitioners (NABCEP) approved classroom solar curriculum, required for the nationally recognized Solar PV Installer Certification. eRenewable also works with Advanced Resource Group (ARG), a full service staffing company headquartered in Phoenix, which provides graduates with career placement assistance.
# # #