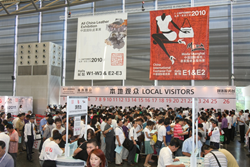 "We have visited Asia many times," said Denham, "Visiting factories several times is what allows us to build confidence and trust that goes both ways."
San Jose, CA (PRWEB) April 23, 2014
American businesses visiting Asia in the last decade aren't always there just to find new markets but to meet the demand they have for quality merchandise at affordable prices. In the contract office furniture industry, the place to find what the industry is looking for is the Chinese International Furniture Fair (CIFF) in Guangzhou. The CIFF, which began as a regional expo, has now become the largest office furniture exhibition in the world.
Mark Denham, Founder/CEO of Ergo Contract Furniture and Lea Goldenring, the company's General Manager, recently traveled to China for ten days to attend CIFF and to meet with executives and personnel at a number of China's leading furniture manufacturing facilities. With more than 12 years spent doing business with Asian suppliers, Ergo is fast becoming a leader in designing, importing and selling high quality, affordable Asian-manufacture contract office furniture for the US market.
According to Denham, the time Ergo spent in China was much more valuable to Ergo than merely visiting the world's largest trade show. "At CIFF, it's best foot forward, of course, but when we visit manufacturing facilities, it's one-on-one and we learn much more about the companies we either work with or are considering building a business relationship with," said Denham. "The companies we visit also have booths at the show but meeting with them at their factories gives us the opportunity to really zero in on issues and learn first-hand how well they are able to meet our expectations for quality products, adhere to production schedules to fulfill customer orders, and maintain our "GO2" in stock program. It is necessary for us to see their QC process first-hand to know if they will be able to meet our continuing needs."
"We have visited Asia many times," said Denham, "Visiting factories several times is what allows us to build confidence and trust that goes both ways."
"A driver comes out to pick us up," added Goldenring, "and takes us to the plant. Our hosts sometimes speak limited English but we have learned to communicate very effectively with them over the course of our 12 years of visiting them where their furniture is made."
By being on-site, the Ergo team is able to drill down into more issues than are likely to come up in other contexts. They may, for example, select random boxes in order to assess the quality and integrity of the packaging, and look at exactly how the merchandise is packed to make certain the manufacturer is using only the best packaging methods and materials. This ensures that their products will be protected from damage while en route to the dealer. Ultimately, this extra level of care makes a huge difference to both the buyer and the end user. To date, Ergo has not experienced any product damage or lost items due to improper packaging.
"Our general impression of the quality of work we get from our Asian partners is that it's very high," said Denham. "In the last 10 years, they have come a long way. Management is efficient, educated and bilingual. They really know their stuff."
Ergo has found that their partners have state-of-the-art equipment and use the very latest computer technology in the manufacturing process. Management plays a huge role in making the relationship unfold smoothly. Ergo deals only with people they have confidence in and have learned to trust.
Ergo's experience and expertise in Asia has made it possible to develop special OEM relationships for US based manufacturers for both private label finished goods and components. This is a growing segment of the company's business and a target for major growth.
Culturally, business may be done a bit differently in Asia but it's nothing Ergo hasn't learned to accommodate. The top tier of quality manufacturers in the new Asia are known for their integrity.
"Our relationships are tight!" said Denham. "We have done business in China and a number of other Asian countries for more than a decade. We visit about three times per year, and have found our relationships there to be fully sustainable, dependable, high quality and always consistent."
Because of its partnerships with Asian manufacturers, Ergo will be able to continue expanding its markets at a rapid pace. New products being offered include sit/stand electric tables, which are now in high demand in Silicon Valley and beginning to sell well in other markets.
Denham, in his 38 years in the office furniture business, has rarely seen a market explode so quickly. "Just as Apple creates a need for new products with an iPad or iPhone," said Denham, "the sit/stand table is beginning to reshape the way the office furniture world looks and works."
About Ergo Contract Furniture
Ergo Contract Furniture and Founder/CEO Mark Denham have been helping businesses and their employees find office seating and workplace environment solutions for more than 38 years. The firm has been improving the lives of end users with well-designed, ergonomic, comfortable, and easy-to-use products ever since its beginnings.
Ergo is now offering expanded product collections and industry leading dealer incentive programs. Throughout its history, Ergo's commitment to maintaining high product quality standards has remained constant. This, along with a generous lifetime warranty on all seating, has earned it some of the highest end user rated product reviews in the history of the industry. The company is particularly known for having the quickest "on time" shipping in the business, as well as its excellent customer service. Ergo provides both high quality and affordability unmatched by its competitors.
According to Lea Goldenring, Ergo's GM, "We attract and retain our dealers by providing flexibility that creates a win-win situation for both the customer and Ergo. Our company is dedicated to helping people find the best seating and sit/stand desk options for any work environment."