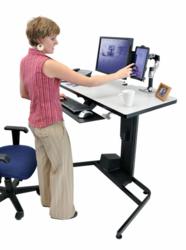 Wide use of computers in our daily life exposes us to health risks that go beyond muscular-skeletal damage
Los Gatos, CA (PRWEB) October 20, 2011
We've Got Your Back, a Los Gatos back store adds Ergotron products to their line to bring affordable sit to stand solutions for home, office and industrial application support. Ergotron provides a complete family of sit to stand workstations that adapts to many different types of workstations and work environments. Ergotron sit to stand workstations are high quality alternatives for cost-sensitive users and will allow companies to offer a sit to stand option for all their employees instead of just those with existing back health issues.
"Wide use of computers in our daily life exposes us to health risks that go beyond muscular-skeletal damage. Most of us are not always aware of the long term effects of prolonged sitting. It is important to raise that awareness and to let people know they can do something about it," says Rita Marcojohn, owner of We've Got Your Back.
With products from companies like Ergotron, Los Gatos ergonomic accessories store, We've Got Your Back can help redesign the workplace to create a healthier, more productive workforce. By integrating an hour of standing into a normal 8-hour work day, it is possible to burn enough additional calories to lose up to 10 pounds per year. We've Got Your Back carries a wide range of products to help neck pain, back pain and products that assist in tension relief including ergonomic seating, zero gravity chairs, neck pillows, doctor recommended pillows, ergonomic accessories and more.
For more information on We've Got Your Backs' products and services, call (408) 395-1122 or visit them online at http://www.back2active-bayarea.com. We've Got Your Back is located at 114 Royce Street, Los Gatos, CA 95030.
About We've Got Your Back
Los Gatos zero gravity chair provider, We've Got Your Back is a business delivering best-in-class products and services in ergonomic seating and accessories, fitness gear and comfort solutions. Their goal is to help eliminate the root cause of pain. The show room in Los Gatos was designed to serve the community with educational programs, fitness classes and product demonstrations. We've Got Your Back offers its products and solutions to support the home office, telecommuter or office workstation with training, chair fittings, ergonomic assessments and life-style support programs.
###