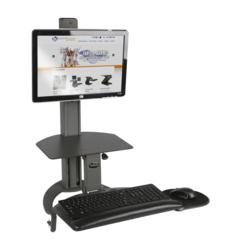 (PRWEB) June 24, 2013
We've Got Your Back introduces new ergonomic products for the month of June.
Whether catching up on e-mails in the kitchen or multi-tasking over breakfast on the phone, the versatile Move by Varier allows for 360 degrees of movement. It is height-adjustable, allowing for customers to select the perfect position that suits them.
The flexible standing support has a graded disc base, so its tilting angle can follow the body through a range of positions keeping the spine in its natural curvature, and giving the body most freedom to move while strengthening back and abdominal muscles. Its saddle shaped seat is an essential element of the Move, making it impossible to slide off. This relieves the pressure on the spine and neck, allowing deeper breathing and thus improving concentration.
We've Got Your Back also offers an affordable sit stand option, that is light weight, easy to install and works in corners or small work spaces. The Taskmate Go, sit-stand-desk from HealthPostures is a sleek, cost effective way to enjoy a healthy energetic work-style. Customers can effortlessly move from a sitting position to a standing position improving productivity and comfort, while having the freedom to move whenever they like.
Just clamp the Taskmate Go sit-stand-desk to an existing work surface and mount the computer monitor. A simple squeeze of the conveniently placed lever is all that's needed to move the monitor, keyboard, mouse and other items into a comfortable standing position.
For more information on these and more products, visit the We've Got Your Back website at http://www.back2active-bayarea.com.
About the company:
We've Got Your Back is a women-owned business that delivers the best-in-class products and services in ergonomic accessories and seating, fitness gear and comfort solutions. Its goal is to provide education, information and products that ultimately eliminate the root cause of back pain and neck pain. The showroom in Los Gatos was designed to serve the community with educational programs, fitness training and product demonstrations.
We've Got Your Back offers its products and solutions to support the home office, telecommuter or the office workstation with training, chair fittings, ergonomic assessments and lifestyle support programs. Products include ergonomic seating, zero gravity chairs, neck pillows, massage chairs, sit-to-stand desks, doctor-recommended pillows and more.