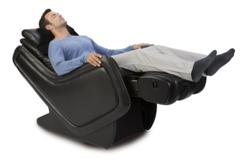 We've Got Your Back serves a discerning customer base
Los Gatos, CA (PRWEB) January 25, 2012
Los Gatos ergonomic seating expert, We've Got Your Back, offers customers a sneak preview of the new immersion seating from Human Touch – the ZeroG 2.0. We've Got Your Back is the only showroom in the Bay Area that will showcase a demo unit of the ZeroG before its released in the market. ZeroG 2.0 will be introduced at the World Market Center in Las Vegas on Jan. 30 to Feb. 3 and will begin shipping late February.
The product offers the comfort of the Zero Gravity chair with seating designed with persistent ergonomic precision. The massage provides the relaxing depth of Four Full-Body Auto Immersion Programs, featuring patented Human Touch technology to simulate the hands and techniques of trained massage professionals. The chair is compact, comfortable and affordable.
"We've Got Your Back serves a discerning customer base. Our customers appreciate the value of massage and insist on the best. We think Human Touch has responded to customer feedback and designed an outstanding new product. We are looking forward to this product. Human Touch selected We've Got Your Back to give a sneak preview of the product because they can count on critical evaluation and candid feedback," said Rita Marcojohn, owner of We've Got Your Back.
We've Got Your Back, Los Gatos' back store is a women-owned back store that delivers best-in-class products and services in ergonomic seating, ergonomic accessories, fitness gear and comfort solutions. Its goal is to provide tension relief and ultimately eliminate the root cause of back pain and neck pain. The showroom in Los Gatos was designed to serve the community with educational programs, fitness training and product demonstrations.
For more information about We've Got Your Back, call 408-395-1122, view the company on the web at http://www.back2active-bayarea.com or visit 114 Royce St. in Los Gatos.
About We've Got Your Back
We've Got Your Back offers products and solutions to support the home office, telecommuter or office workstation with training, chair fittings, ergonomic assessments and lifestyle support programs. Products include zero-gravity chairs, neck pillows, doctor recommended pillows and more.
###