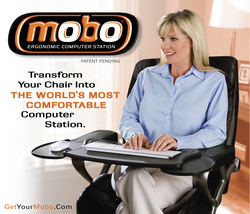 Salisbury, NC (PRWEB) October 13, 2009
ErgoBiz, LLC, a manufacturer of innovative computer ergonomic products, announced today the availability of the Mobo®, a revolutionary computer accessory that quickly converts most standard office chairs into an ergonomic workstation. The Mobo's unique, patent pending design naturally positions both desktop and laptop computer users in a comfortable and healthy neutral body position, by bringing the keyboard and mouse to the user.
"The Mobo Ergonomic Computer Station is an innovative, yet simple solution to the serious health risks facing computer users today. The Mobo naturally encourages a neutral body position, which is recommended by OSHA (Occupational Safety and Hazard Association) as the best way to help prevent and reduce the effects of various computer related musculoskeletal disorders," said Kevin Davis, ErgoBiz director of marketing.
A guiding principle of ergonomics for reducing the risk of developing painful and often debilitating repetitive strain injuries (RSIs), a neutral body position is a comfortable working posture in which the body's joints are naturally aligned, effectively reducing the stress and strain on the muscles, tendons and skeletal system.
According to the US Department of Labor, one in three computer users suffer from some form of overuse syndrome from improper posture or body position. These disorders include carpal tunnel syndrome and a host of other RSI's. With computer use on the rise, ergonomic injuries are the fastest growing category of work related illness, and compensation costs in the United States for ergonomics-related injuries are estimated at $30.9 billion, according to the 2008 Liberty Mutual Workplace Safety Index.
By placing the keyboard tray and mouse pad directly on the user's chair, the Mobo provides unsurpassed comfort and mobility, eliminates awkward reaching and stretching for computer controls and reveals traditional desk-mounted keyboard trays to be cumbersome and out-dated. The Mobo's versatility makes it an ideal solution for business use, home office workspaces, dorm rooms, computer gamers, and casual computer users.
The Mobo consists of three main parts -- a removable keyboard tray, and two armrests with folding mouse pads and is manufactured in the USA from high quality, industrial-strength polymers (over 7 lbs.) for exceptional strength and rigidity. The Mobo easily installs on most standard office chairs (with arms up to 4" wide). Once installed, the Mobo quickly converts between office chair and mobile computer workstation, allowing for the normal, everyday function of the user's chair. The Mobo can easily be removed without damaging the chair and includes a 30-day money-back guarantee with a limited lifetime warranty.
To learn more about this exciting new ergonomic product, visit http://www.getyourmobo.com.
About Ergobiz, LLC
Ergobiz is a manufacturer of innovative, high quality computer ergonomics products. ErgoBiz products are designed and manufactured in the United States of the highest quality industrial polymers and materials. Visit the Mobo fan page on FaceBook.
###