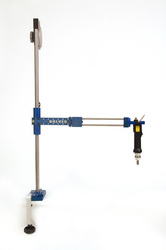 Westford, MA (Vocus) June 30, 2010
The Linear Series Arms maneuver smoothly as they absorb the torque reaction from the screwdrivers while providing ergonomic support for the operator. The fluid movement increases precision and production for a variety of torque applications.
SmartMotion by KolverUSA offers two Linear Arm Kits. The main distinction between the kits is the tool holder. One kit comes complete with a universal tool holder while the other kit contains the SmartMotion tool adapter. The operator would shop a la carte to configure which tool holder they would prefer.
The Linear Arm Kit is composed of the linear arm, the table stand, the tool balancer bracket, the tool balancer, and the tool holder of your choice. An optional table clamp is also available upon request.
The SmartMotion Linear Arms are said to reduce repetitive motion injury (RMI) and carpal tunnel syndrome (CTS), thanks to their ergonomic design. They prevent cross-threading and side load. Ultimately the tool is kept perpendicular and extends in a horizontal direction resulting in a maximum reach of 19 inches. For more information or for a complete demonstration, please contact your local KolverUSA sales representative.
# # #