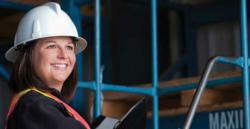 We are now equipped to better assess and diagnose potential problems in the workplace... These activities increase profitability and performance while decreasing worker injuries and waste.
San Antonio, TX (Vocus/PRWEB) April 15, 2011
Fit For Work is proud to announce the recent accomplishments of its Ergonomics Department Director James Rethaber, PhD, CPE. Dr. Rethaber recently received his PhD in Human Performance Technology from Capella University. This is important to Fit For Work, a San Antonio based Occupational Health and Industrial Medicine practice, and their clients as Dr. Rethaber can now provide greater insight into the reduction and prevention of work-related musculoskeletal disorders. It further expands Fit For Work's abilities in the area of lean ergonomics and ergonomic program development. This will also enhance their client's abilities to perform root cause analysis and preventive ergonomic abatements for new manufacturing processes.
Human performance technology is a multi-faceted discipline focusing on helping businesses, organizations and individuals attain increased levels of performance. Human performance technology utilizes methodologies from performance and process improvement, such as Six Sigma, TQM, and Lean Manufacturing. These methods are used to analyze the root causes of the work-related performance issues. Training and non-training interventions are designed and implemented to resolve the performance issues in question.
"We are extremely proud of James' doctorate in Human Performance Technology," states Tom Tobin, MBA, OTR, CEO of Fit For Work. "Clients count on Fit For Work to objectively apply the best research to the real world need for efficient and safe performance. We are now equipped to better assess and diagnose potential problems in the workplace, and can also provide high level guidance to make processes and workers' performance more efficient. These activities increase profitability and performance while decreasing worker injuries and waste."
As one of only 769 board-certified professional ergonomists in North America, Dr. Rethaber combines human performance technology and ergonomic methodologies to reduce and prevent work-related musculoskeletal disorders while also maximizing productivity and minimizing spending. Dr. Rethaber has worked on various projects utilizing human performance technology and ergonomics including designing and developing a bakery department within a retail store and automating a process in a meat seasoning department. His work minimized injuries in the work place, improved the quality of the product, increased productivity of the department and reduced waste due to excess materials and wasted movements.
Fit for Work follows a model of care analogous to a sports team, identifying workers as industrial athletes with the goal of prevention and early intervention. Instead of a model where they would benefit from prescribed care and medical costs, Fit for Work's measure of success is tied to the physical health and safety of the employees as well as the financial health and safety record of the companies with which they work. Sports teams don't wait for players to be taken out of the game before doing something about their musculoskeletal concerns, nor do Fit For Work clients wait for their employees to be "taken out of the game" with a serious injury. Fit for Work focuses on preventing tomorrow's cost and pain by eliminating it today.
For over a decade, Fit for Work has provided this model to numerous local and national clients and maintained reductions in worker's compensation costs of no less than fifty percent. By implementing functional ergonomics programs within the workplace, there is a reduction in the risks associated with physical demands. The lower the risk, the lower the incidents. Prevention, early intervention and medical management are critical aspects of Fit For Work's services.
For more information on Fit For Work and their services, please visit wellworkforce.com.
About Fit For Work:
Fit for Work is a privately held Occupational and Industrial Health practice developed around a model of prevention and early intervention. Founded in 1998, Fit for Work has continuously sought to provide large and small employers alike with a non-traditional service model. This model combines a progressive approach to injury prevention and treatment based on an underlying and proven principle that putting the right worker in the right place in as safe a manner as possible results in decreased costs, decreased injuries, increased profitability and increased productivity. For more information, please visit wellworkforce.com.
# # #