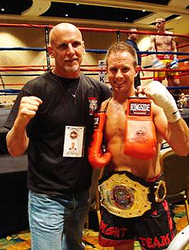 Believe it or not, at Tiger Schulmann's Mixed Martial Arts, my training regimen is no different than any other student at my school.
Tampa, FL (PRWEB) July 29, 2009
On July 25th and 26th, some of the greatest fighters from all over the world fought for a title belt at the 2009 IKF (International Kickboxing Federation) World Classic Championship Tournament. The event took place at the Marriott Hotel in Orlando, Florida, with nearly 300 fighters registered to compete in all weight divisions and three different rules categories. Who would have thought a mild-mannered, 37 year old mortgage broker from Tampa, Florida, would be the new IKF Muay Thai Kickboxing Men's Lightweight World Champion? Last weekend, Eric Parker, from Tampa, Florida, became just that.
For Eric Parker, it was the opportunity of a lifetime when he entered the Muay Thai Rules Men's Lightweight Division, a full-contact rules division that permits punches and kicks to the head, body and legs, as well as knee and elbow strikes. An annual international event, the tournament was single-elimination, meaning that if fighter loses once, he is out of the competition. Parker weighed in at 139 pounds on Friday afternoon and entered the ring on Saturday morning for his first of four potential fights in a division consisting of thirteen fighters.
The first fight was with Jonathon Arias, 21, from Lima, Peru. Parker ended it quickly, with a knockout at 1:40 in the first round. Advancing to his second fight of the day, Parker defeated Eric Shelland, 23, from Winter Springs, Florida, at 1:45 in the first round, also by knockout. On Sunday, Parker was paired with Mauricio Siles, 25, from San Jose, Costa Rica. That fight also ended by a knockout at 1:11 in the first round. The final bout for the championship was against Mark Trillas, 29, from Miami, Florida, and was over in :48 seconds by a knockout spinning kick to the head. Parker was then awarded the Championship Belt.
In a ringside interview, Mr. Parker was asked what made the difference between losing and being crowned world champion. He summed it all up by saying, "Three things. One; the will to win. Two; support from family and friends, especially my wife, Amber, and daughter, Lauren. And three, my Team. I want to thank Cornerman Travis Hadwin, who took care of me and helped prepare me for these fights. And particularly, I thank my instructor, Shihan Gary Hellman, of Tiger Schulmann's Mixed Martial Arts in Clearwater, Florida - where I train - for his coaching and instruction in helping improve me as a fighter."
Asked after the interview if he used any special training in preparing to fight against fighters nearly half his age, Parker replied, "Believe it or not, at Tiger Schulmann's Mixed Martial Arts, my training regimen is no different than any other student at my school." His record now is 9-0 with 6 knockouts.
Eric Parker can be reached for comments or questions by phone at 317-289-3380 or at eparker@america-one-finance.com or at Clearwater@tsk.com.
###