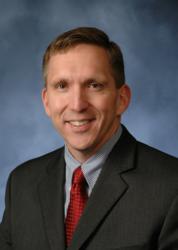 I'm honored to have the opportunity to expand my leadership role with such a great team of fellow employees and dedicated Board of Directors
Coldwater, MI (PRWEB) May 02, 2012
Century Bank and Trust's Board of Directors along with Ron Reed, President and CEO, are pleased to announce the implementation of Century's senior management succession plan. Eric Beckhusen, Executive Vice President, was recently appointed to the Board of Directors and will also be named Chief Executive Officer of Century Bank and Trust effective July 1, 2012. Mr. Reed will remain as Century's President and board member until the end of 2012 and he and Mr. Beckhusen will continue to work jointly in the executive management of the bank until then.
"Century Bank and Trust is an excellent community bank and I have thoroughly enjoyed the opportunity to serve as its CEO and President," stated Reed. "Eric's promotion represents stable, highly qualified leadership of the company for many years to come."
With over 18 years of experience with Century, Mr. Beckhusen's responsibilities have included credit and loan administration, business development and overall bank management. In 2004 he was appointed Senior Vice President, a position he held until being named Executive Vice President, Senior Loan Officer in 2009. His industry involvement and activities include the Risk Management Association and the Michigan Bankers Association.
"I'm honored to have the opportunity to expand my leadership role with such a great team of fellow employees and dedicated Board of Directors," said Beckhusen.
Mr. Beckhusen is a lifelong resident of the Coldwater area and joined Century Bank and Trust in 1993. He received his undergraduate degree from Ball State University in 1992 and his MBA from Indiana University in 2001, attending the IPFW campus in Ft. Wayne, IN.
Within the community, Eric is a member and past-president of the Coldwater Noon Rotary Club, board member of Coldwater Rocket Football and he coaches youth athletic teams. He and Dawn, his wife of 19 years, have three sons – Luke, Brady and Damon.
Mr. Beckhusen can be reached by phone at (517) 278-1500 or by e-mail at EricBeckhusen(at)centurybt(dot)com
About Century Bank and Trust:
Century Bank and Trust was founded in 1890, as an independent community bank. As an independent community bank, Century Bank and Trust makes its business decisions locally for the continued success of its customers. Century's goal is to keep the local area's communities financially strong and growing and Century uses deposits to make loans to local businesses and retail customers so money stays within the community.
Specializing in building relationships with its customers and communities, Century focuses on long-term, multiple account relationships and customized products that fit customer needs.
Within the community, Century is proud to support over 250 local charities, events and organizations.
To learn more about Century Bank and Trust visit http://www.centurybankandtrust.com or call Toll Free (866) 680-2265.