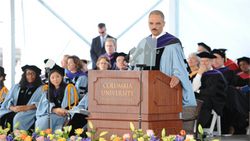 Since America's earliest days, young dedicated lawyers have been using their knowledge and training to stand up for justice, finding that their education not only armed them with an ability to change the law, it also provided them with the power to change the world
New York (Vocus) May 15, 2010
Attorney General Eric Holder '76 urged the Class of 2010 Friday to continue Columbia Law School's legacy of students who readily took up the fight for justice and civil rights (watch video of remarks here: http://www.law.columbia.edu/graduation-2010/video -- requires RealPlayer, available for download at http://www.real.com/ ).
In looking back at the nation's history, Holder said much in the way of social progress was due, in large part, to ideas envisioned and later implemented by graduates of law schools, including the eradication of slavery, women's suffrage, and allowing 18-year-olds the right to vote.
"Since America's earliest days, young dedicated lawyers have been using their knowledge and training to stand up for justice, finding that their education not only armed them with an ability to change the law, it also provided them with the power to change the world," Holder told a crowd of about 4,000 students, family members, and alumni on the South Lawn of Columbia University.
It was at the Law School, Holder said, that he was first inspired to pursue a career in criminal law after taking a class with legendary professor Telford Taylor, one of the prosecutors at the Nuremberg trials.
"This law school defined me in ways that I am still realizing," Holder said.
Holder, who also graduated from Columbia College in 1973, said it was never too early for students to pursue the cause of justice. He cited as examples alumni Bella Abzug '47 and Robert Carter '41, who made vital contributions to the civil rights movement while still in their twenties before moving on to distinguished careers in politics and the judiciary, respectively.
''Of course, you may be told many times over the next few years to wait. You may be told that your vision for a better system needs ripening, or worse, a reality check,'' Holder told the students, who hail from 39 states, the District of Columbia, Puerto Rico, and more than 50 countries.
"But I say: Trust your instincts. Believe in yourselves. Follow your ideas -- unless, of course, you're one of the two graduates who are coming to work at the Department of Justice, where you'll be taking your orders from me."
While the Class of 2010 is graduating in an era of "unprecedented challenge," marked by a recession, and an ''era of new threats and a time of war,'' Holder said, they have been given a rare opportunity to effect change.
"You are now stewards of our nation's justice system,'' Holder said. ''I believe the privilege of earning a Columbia law degree brings with it an ongoing responsibility to use your gifts and training to improve this system."
Columbia Law School, founded in 1858, stands at the forefront of legal education and of the law in a global society. Columbia Law School joins its traditional strengths in international and comparative law, constitutional law, administrative law, business law and human rights law with pioneering work in the areas of intellectual property, digital technology, sexuality and gender, criminal, national security, and environmental law.
Visit us at http://law.columbia.edu
Follow us on Twitter http://www.twitter.com/columbialaw
###