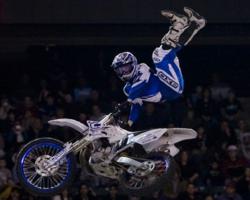 New England's Elite Motocross Training Facility
Sunapee, MX (PRWEB) February 29, 2012
With the extreme sport of motocross continuing to grow in popularity across the Nation, Eric Mello has developed a new training program for his elite motocross training facility. Located in New Hampshire, SunapeeMX is one of the largest and most professional motocross training facilities on the East Coast. Offering professional training and service, SunapeeMX offers serious riders the opportunity to further their skills and learn from experienced professional athletes.
Established in 2010, SunapeeMX offers a wide variety of training programs covering all aspects of motocross competition. Professional motocross rider and owner Eric Mello (#619) and partner Paul Lamb (#408) strive to develop and environment where aspiring freestyle motocross riders have the opportunity to enhance and strengthen their racing careers through a series of structured health, fitness, agility, and competitive training programs.
Eric Mello and his new freestyle motocross training program begins with weeklong development and training with the intention of becoming a faster and safer rider. Comprehensive training techniques include riding, physical conditioning, and mental skills using proven training methods and pro standards in freestyle motocross racing.
Fitness conditioning is an integral part of Eric Mello's training sessions, and includes four days of cardiovascular training and three days of strength training specifically targeted to enhance the rider's skills and endurance. Eric Mello also offers mental development and coaching, which is one of the most overlooked aspects of professional racing. The training programs include one-on-one mental skills coaching so that the rider can be more relaxed and confident in their riding skills.
As part of the facility's new training program, the evening sessions include lectures on important topics such as safety, health, nutrition, mental awareness, and conditioning. Certain nights the trainers review video footage with the rider to demonstrate how and where the rider can improve.
SunapeeMX is a professional motocross training facility located on 30 acres in beautiful Sunapee, New Hampshire. The facility provides a very warm and comfortable environment for the weeklong sessions. SunapeeMX includes professional and challenging motocross tracks, freestyle training tracks, an RV park with water and electric hookups, and a state of the art workout facility. SunapeeMX is home to some of the top professional riders including Eric Mello, Paul Lamb, supercross rider Scott Fletcher, and Josh St. Hilarie. SunapeeMX provides the most comprehensive freestyle motocross training program in the Nation and develops experienced riders to be able to successfully compete in professional racing.
###