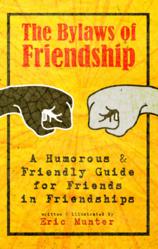 "The Bylaws of Friendship" is written for those who appreciate witty and random humor
Miami, FL (PRWEB) July 27, 2011
"The Bylaws of Friendship" is a satirical rulebook that engages its readers, taking them through the prescribed tenets of friendship. Written for those who appreciate witty and random humor, each bylaw is accompanied by quips such as amusing tables, humorous charts, bizarre illustrations, silly short stories and even an unintelligible cookie recipe. Furthermore, the book encourages its readers to interact with the content through a variety of means including a papercraft, quizzes, checklists and a comprehensive evaluation.
Referring to his technique in penning the parodied guidebook, author Eric Munter says, "I thought it was important for the book to have a sense of friendly familiarity. I wanted it to feel like I was having a casual, yet kooky, conversation with the reader. So, I approached it with the same mindset I have when writing to my closest friends. That, I feel, provides the book with an enjoyable and easy-to-read style."
"The Bylaws of Friendship" is now available on Amazon in paperback for $9.99 and eligible for free shipping with Amazon Prime. Additionally, the Kindle Edition is offered for immediate download on Amazon for $6.99.
For more information about "The Bylaws of Friendship," please visit its webpage or contact Eric Munter at ericmunter(at)airixdesigns(dot)com.
About the Author
Eric Munter, author and illustrator of the children's book "Tearing Your Eyes Out: A Collection of Poetrical Abominations," lives in Miami, Florida. He especially enjoys the company of his friends, laughing regularly, and eating peanut butter.
###