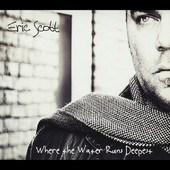 "With no exception all very beautiful songs... "- Rootstime, Belgium
Baltimore, MD (PRWEB) August 15, 2013
With comparisons to John Mayer, Marvin Gaye, and Lenny Kravitz, singer-songwriter Eric Scott releases his full length album, "Where the Water Runs Deepest." Co-produced with Scott Smith, and originally intended as a four or five song acoustic EP, the album evolved into a collection of twelve soulful pop tunes. Eric Scott brings originality to the usual label of singer-songwriters as a 6'4", bass playing frontman.
With a balanced mix of powerful acoustic ballads like "Break Me Open" and uplifting tunes such as "Boston" and "Get To Me," Where the Water Runs Deepest is both thought-provoking and engaging. The album encompasses relatable emotions and scenarios that drive listeners to draw connections to their own personal experiences. In Scott's own words, "An acoustic record doesn't have to be slow and somber. I tried to make a record that gets you thinking, reveals a little more about me, gets your toes tapping and your head bobbing—and when you're done, you're smiling and feeling hopeful."
Recorded at The Wood and Stone Room in Baltimore, Where the Water Runs Deepest features guest musicians, including Mike Aubin (Robben Ford, Ken Navarro, Deanna Bogart) and John Thomakos (Vanessa Carlton, John Mooney, Cirque Du Soleil) on drums, Sol Creech (Taj Mahal, Kenny Wayne Shepherd, Cootie Stark) on guitar, and Jen Smith (Crack The Sky) on Cello. The album was mastered by Mike Monseur (John Jennings, Cathy Fink & Marcy Marxer, Luke Brindley, Tina Chancey, Tom Principato, and The Afro Bop Alliance Big Band) at Bias Studios.
You can learn more about Eric Scott at http://www.ericscottmusic.com .
For more information, images, or to arrange for an interview with Eric Scott, please contact Melissa Zeigler at Powderfinger Promotions: melissa(at)powderfingerpromo(dot)com
Powderfinger Promotions–Independent Radio Promotion and Publicity. Since being founded in October 1994, Powderfinger has come to be regarded as a top indie radio promotion and publicity firm with ties across North America.