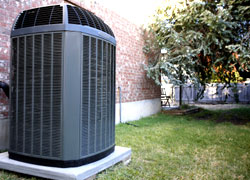 We treat our customers as we would our family.
Erie, PA (PRWEB) July 20, 2011
To help people survive the humid, hot summers in Pennsylvania during these tough economic times, Admiral Heating and Air Conditioning is offering first-time customers a 25% discount off all air conditioning services, including repairs, maintenance, tune-up, and clean and check services for summer 2011.
That makes this the perfect time to check out this Erie, PA heating and air conditioning company, a family run business consisting of three siblings – David, Amy, and Jeremy Fuchs – dedicated to family and community. The business stands out from the rest by being extremely honest and up front with all their clients.
"We don't pressure our clients into paying for more than what they need," David Fuchs II, owner of Admiral Heating and Air Conditioning, explains. "And I always try to repair equipment, if possible, rather than pushing my clients to purchase new equipment unless absolutely necessary."
David has a degree in electrical engineering and has been in the HVAC business for 20 years. He always loved fixing things and helping people, so going into this line of business seemed natural . Ambitious, but smart with financial decisions, David saved up enough money to start his own business without loans of any kind. In fact, he considers one of his biggest accomplishments staying 'in the black.'
Although a fairly new company, Admiral Heating and Air Conditioning is quickly gaining a stellar reputation due to their excellent customer service.
"We treat our customers as we would our family and try our best to go above and beyond to exceed our clients' expectations," David says.
For more information about Admiral Heating and Air Conditioning, please call (814) 882-0995 or visit their profile on BuildZoom.
About Admiral Heating and Air Conditioning
Admiral Heating and Air Conditioning is a family-owned and operated business proudly serving the Erie area in Pennsylvania. With nearly 20 years of experience in the HVAC business, it is their goal to provide the highest quality service and products. Their company specializes in residential services as well as commercial rooftop application. Owner David Fuchs II is dedicated to exceeding customers' heating and air conditioning needs by honestly and accurately recommending products and services best suited to customers' unique circumstances.
###