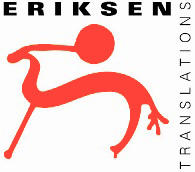 We Are New York expresses many of the core values of Eriksen: diversity, education, outreach, and the power of language to unite people.
Brooklyn, NY (PRWEB) September 15, 2011
Among the many projects undertaken by Eriksen Translations Inc. (http://www.eriksen.com), a leading multilingual services provider, few have taken on a life of its own to the extent of We Are New York, a nine-episode, Emmy-award winning TV show and workbook series designed to help immigrants learn English.
"It's wonderful to be part of a New York Emmy-award winning project, especially one that speaks to the heart of what we at Eriksen do," said Vigdis Eriksen, president and CEO of the company. "We Are New York expresses many of the core values of Eriksen: diversity, education, outreach, and the power of language to unite people. We're particularly happy to work on a project that helps the community of which we are a part."
A joint project of the Mayor's Office and The City University of New York (CUNY), the We Are New York nine-episode TV series has been viewed by nearly 13,000 students in the classroom and countless others on public access television. The project has spawned study groups that have helped more than 4,000 immigrant adults across the five boroughs with some 700 volunteers trained to lead the groups; some 100 ESL teachers have attended workshops at We Are New York Professional Development Day.
Eriksen's work on the project involved some 19 specialists and vendors, from skilled translators working in five languages (Arabic, Bengali, Chinese, Russian, and Spanish) to experts handling complex technical issues. "It's hard to dub English in a situation where the on-air talent speaks slowly enough for a non-native speaker to follow," said one. Besides translations, the project required typesetting, subtitling, voice-over, and mixing/editing for the three DVD set and an accompanying workbook, plus translating promotional materials into other languages. The DVD and workbook series teaches English using true-to-life stories on a range of important topics that are relevant to people's lives, from parent-teacher meetings to quitting smoking.
"We are very pleased with the reception We Are New York has received," said Leslee Oppenheim, CUNY Co-Creator of the WANY series, "and I'm sure that the skill and quality of the translations, both in the DVDs and in the workbooks, play a large part."
Besides this project, Eriksen's work for the City of New York has included efforts for the NYC Department of Health and Mental Hygiene and the NYC Health and Hospital Corporation. Eriksen has also worked with cultural institutions like the Metropolitan Museum of Art, the Guggenheim, the National 911 Memorial and Museum, the Brooklyn Museum of Art, and the Jewish Museum, as well as various NYC community service groups and many global companies headquartered in the city.
About Eriksen Translations Inc.
Eriksen Translations Inc., now in its 25th anniversary year, is a leading provider of multilingual services in more than 100 languages. In addition to translation, Eriksen offers interpreting, Web localization, multilingual typesetting and media services, and cultural consulting. Eriksen partners with major companies in technology, finance and insurance, health care and education, as well as museums and cultural institutions worldwide. For more information, visit http://www.eriksen.com
About We Are New York
We Are New York was created by the Mayor's Office in partnership with The City University of New York to help immigrant New Yorkers improve their English speaking skills and to learn about important city resources available to them. There are nine episodes of We Are New York, each with a different cast and set in a different community. The series presents true-to-life stories on a range of important topics that are relevant to people's lives, including parents getting involved in their children's education; opening a bank account and managing money; living an active life while managing a chronic disease like diabetes; taking care of children with asthma; and helping a friend to quit smoking. For more information, visit http://www.nyc.gov/LearnEnglish
###