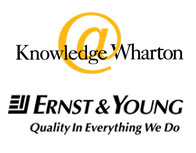 Many organizations plan for one view of the future. In a world that's very uncertain, that's a very risky posture to have.
New York, NY (PRWEB) July 23, 2012
Uncertainty about the global economy, particularly worries about the Eurozone and continued regulatory change, are clouding banks' plans for the future. Banks need to cut costs while building their capital positions to meet regulatory requirements and seize new opportunities quickly. So, what should global banks do right now? Ernst & Young and Knowledge@Wharton answer this important question in their latest video series titled Using Scenario Planning to Guide Strategies. The series explores how global banks can use dynamic scenario planning to prepare for the future and highlights three key strategies: move into emerging markets, develop a nimble culture and invest heavily in technology.
In the video series, Ian Baggs, Deputy Leader of Ernst & Young's Global Banking & Capital Markets, Mauro Guillen, Professor of Management at the Wharton School and Roch Parayre and Bernardo Sichel, Partners at Decision Strategies International, discuss how banks should use scenario planning to assess their business plans and evaluate customer drivers. The three also identify emerging market opportunities, including local partnerships that provide for more rapid scalability and the ability to achieve high margins.
"Many organizations plan for one view of the future. In a world that's very uncertain, that's a very risky posture to have," says Parayre. "To prepare for the future amidst today's uncertainty, there are three things banks need to do. First, they need to do a pressure test to assess how well prepared they are to succeed under different possible scenarios. Second, they need to identify which aspects of their organizations work under the different scenarios. Third, they need realize that it's futile to try to predict the future. Consequently, they should look to add some flexibility to their organizations so they are able to adjust and succeed in a very complex and changing world."
With so much uncertainty in today's economy, bank CEOs need to rethink where and how their institutions add value to customers, who those customers are today and who they might be in the future. Emerging markets — not just geographical markets, but also new lines of business — offer opportunities, when accompanied by the right-sizing of an existing business.
In the series' feature clip, "Advice for Global Bank CEOs," Baggs and Sichel discuss how to balance pressure from shareholders to perform with opportunities for growth within the uncertain regulatory environment.
"There are quite a lot of opportunities and different types of scenarios that could play out. To be successful, banks need to invest in their strategic planning capabilities and build resilience in the portfolio of businesses that they have and those in which they're looking to invest," says Baggs. "If banks' strategies are resilient they will be ready to act quickly in response to economic and regulatory changes."
As banks expand into new markets, they need better data systems to meet regulatory demands and, at the same time, they must learn to use that data to identify new product and market opportunities. This will require significant investments in technology to manage data consistency. Creating consistency in reporting, from the front-end to the back-office systems, will enable banks to better support accounting and valuation, and provide the right management information for market risk and credit exposures.
The group also discusses how global banks should prepare for new regulations, the impact regulation may have on investments in emerging markets, big worries – and opportunities – for global banks and how uncertainty in the global economy will affect planning.
In addition to this latest video in the series, Knowledge@Wharton and Ernst & Young recently published the industry's first video-enhanced eBook, Global Banking 2020: Foresight & Insights, which is available for download on a variety of tablets, including the iPad. To download a web version of the eBook or view excerpt videos, please visit the enhanced eBook preview page. The entire video series on the future of banking is available at the Global Banking: Foresight & Insights website.