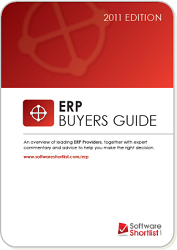 Helps business owners and executives navigate the challenging process of selecting a new ERP system
Melbourne, Australia (PRWEB) November 10, 2011
To help owners and executives navigate the challenging process of selecting a new system to manage their entire business, Software Shortlist has just released its 2011 ERP Buyers Guide. The free guide contains expert advice on how to choose and implement the right software, together with profiles of leading solution providers.
Available as a free PDF download, the ERP Buyers Guide provides insights on topics such as:

Taking a business-driven approach to software selection
Benefits and pitfalls of ERP systems
Advice for a successful ERP implementation
Top 3 tips for a strong ROI on your new system
The ERP Buyers Guide also has a directory of leading solution providers, including both "in the cloud" and "on-premise" options. The guide gives buyers an effective overview of each solution and what makes it distinctive, together with key contact details for each vendor.
The 2011 ERP Buyers Guide from Software Shortlist can be downloaded free at http://www.softwareshortlist.com/erp
About Software Shortlist
Software Shortlist specializes in matching businesses with relevant software to improve their performance. Its award-winning Get A Shortlist service provides a free shortlist for prospective software buyers, matching them with a handful of relevant vendors from an extensive and growing network. http://www.softwareshortlist.com
# # #