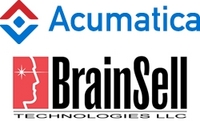 Acumatica's web-based technology complements our existing client-server solutions, so we can recommend the perfect solution for customers
Bethesda, MD (PRWEB) October 6, 2009
Acumatica, a provider of web-based accounting, ERP, and CRM software, and BrainSell, a leading business software value added reseller, today announced a partnership aimed at transforming mid-sized businesses into market leaders using Acumatica's web-based software.
BrainSell will offer Acumatica's software to deliver solutions with advanced financial features that can be installed anywhere, accessed from anywhere, and customized to meet client business processes. By adding Acumatica to its product line, BrainSell will leverage expertise from hundreds of ERP and CRM software deployments to deliver a modern, web-based solution to clients.
"Acumatica's web-based technology complements our existing client-server solutions, so we can recommend the perfect solution for customers," said Jim Ward, President of BrainSell. "Acumatica allows us to offer an integrated web-based solution with desktop-like performance, robust security, customized workflow, and multiple deployment options."
"Partners offering client-server solutions from Microsoft and other large vendors are looking for cloud-ready and SaaS-ready solutions without giving up advanced financial features," said Ezequiel Steiner, CEO of Acumatica. "Acumatica gives partners such as BrainSell the opportunity to transition from ERP solutions that are client-server to modern web-based technology."
Availability:
Customers may request an ERP software demonstration or purchase Acumatica from BrainSell by calling 1-866-356-2654 or sending a request to sales(at)brainsell(dot)net.
About Acumatica:
Acumatica develops an integrated set of web-based accounting, ERP, and CRM software that can be deployed on premise, hosted at a datacenter, or run on a cloud computing platform. Using Acumatica, mid-sized businesses can access their applications and documents from anywhere using any popular web-browser. Acumatica streamlines business tasks such as accounting, financial reporting, customer management, customer invoicing, vendor payments, expense reporting, inventory management, and much more. Acumatica includes a complete set of business applications, reporting tools, and customization tools. Acumatica is distributed through a world-wide network of partners. Visit Acumatica's website (http://www.acumatica.com) to learn more about its web-based accounting, ERP, and CRM software.
About BrainSell:
In business since 1998, BrainSell Technologies, LLC offers business management software and related consulting services to the mid-sized companies. BrainSell Technologies, LLC represents Sage Software solutions, and has consistently been named among Sage Software's top producers. With experts across the US, BrainSell Technologies works with over 300 companies in many industries to help clients meet their business goals with award-winning software products, customized solutions, and the highest quality consulting in the industry. For more information, please visit http://www.brainsell.net.
###