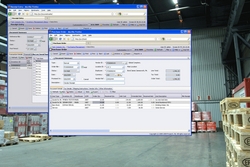 Since Acumatica is priced by server and requires no client software, business customers can involve everybody from sales and marketing to purchasing and warehouse operations in the sales and supply chain
Bethesda, MD (PRWEB) August 19, 2009
Acumatica, a provider of web-based accounting, ERP, and CRM software, today announced the launch of its Distribution Management Suite. The web-based technology allows mid-sized businesses to manage a complex supply and distribution chain from a centralized server to reduce the cost of deploying and maintaining software while significantly increasing productivity.
The Distribution Management Suite is integrated with the Acumatica Financial and Customer Management Suites to automate inventory management, sales orders, and purchase orders. Detailed security requirements and process flows allow businesses to involve their entire organization as well as external partners without changing existing business processes or installing client software. The Acumatica server software can be deployed on-premise, hosted at a datacenter, or implemented on a cloud computing environment.
"Since Acumatica is priced by server and requires no client software, business customers can involve everybody from sales and marketing to purchasing and warehouse operations in the sales and supply chain," said Doug Johnson, VP of Marketing and Business Development for Acumatica. "Our distribution solution has unique access security features which allow organizations to incorporate all their employees as well as suppliers and sales partners in its business processes."
"Our customers have requested distribution software which is web-based, easy to deploy, and less expensive to maintain," said Bradley Bertchie, Director at Paradigm Analytics. "Acumatica provides us all these benefits with a solution that can be customized to meet the needs of our clients. The Distribution Management Suite provides real time inventory information to help reduce client investment in working capital and inventory."
Potential clients are invited to learn more by registering for the distribution software webinar scheduled for August 27.
The Distribution Management Suite includes advanced functionality which allows businesses to automate tasks such as:

Tracking inventory across multiple warehouses including floor locations, bins, and inventory types allowed at each location.
Managing complex inventory through the use of sub-items, lots, serial numbers, expiration dates, negative inventories, inventory in-transit, allocation, and more.
Valuing inventory using standard costs, moving averages, FIFO, and item specific methods.
Optimizing the way you quote, accept, enter, and fill sales orders to reduce order times and minimize costs.
Managing returns, partial shipments, and credit limits.
Selecting suppliers according to costs, features, and delivery times.
Automating complex purchasing arrangements through approval routes, partial receipts, and drop shipments.
Maintaining vendor catalogs with lead times and prices.
The Distribution Management Suite is integrated with all other Acumatica applications to provide integrated marketing and sales, accounting, and financial analysis.
Availability:
Acumatica's Distribution Management Suite is available today and is sold through Acumatica's global network of value added resellers. Potential customers and partners can register for a distribution software webinar scheduled for August 27 demonstrating the benefits of Acumatica's Distribution Management Suite.
About Acumatica
Acumatica develops an integrated set of web-based accounting, ERP, and CRM software that can be deployed on premise, hosted at a datacenter, or run on a cloud computing platform. Using Acumatica, mid-sized businesses can access their applications and documents from anywhere using any popular web-browser. Acumatica streamlines business tasks such as accounting, financial reporting, customer management, customer invoicing, vendor payments, expense reporting, inventory management, and much more. Acumatica includes a complete set of business applications, reporting tools, and customization tools. Acumatica is distributed through a world-wide network of partners.
# # #